You can install a deck on your landscape to make a living area out of the available outdoor space. Here are some tips from our decking Sydney team that can assist you to make a dream deck.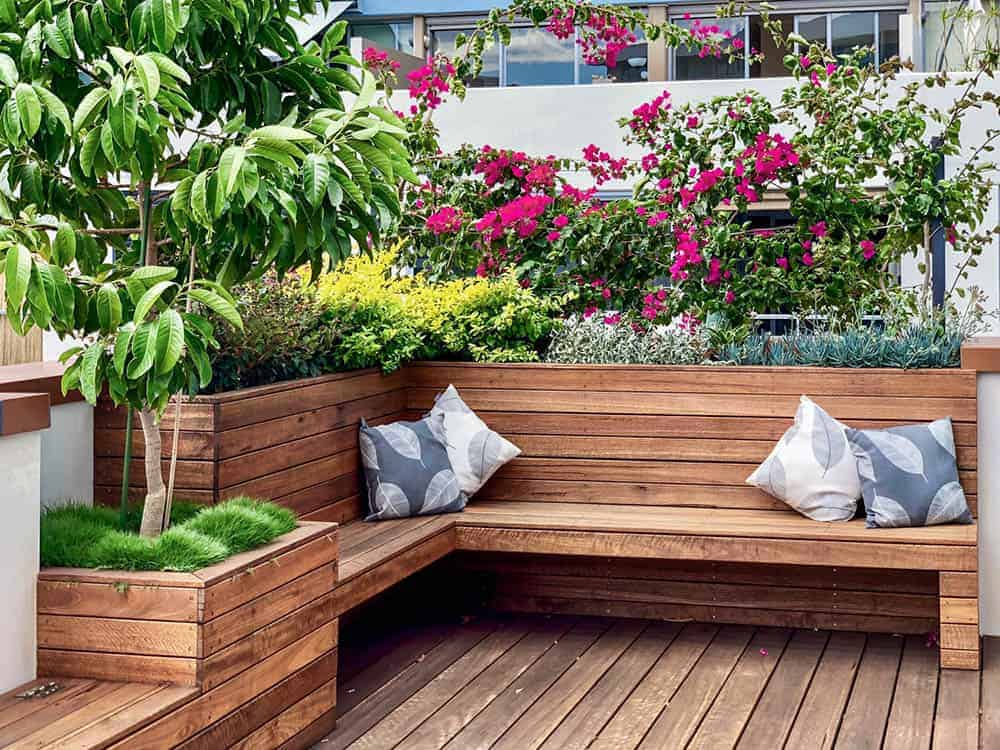 Outdoor Delights
A colour scheme inspired by nature and foliage can make a deck look more charming. Upright elements like lattice will offer a great spot for hanging baskets or suspending window boxes.
Lattice set in vertical lengths can work as an obtrusive fence. Rather than constructing a roof structure, install an outdoor fabric material to work as a canopy for shade.
Create a unique focal point by adding decorative elements over the back wall. Angled flooring will offer a visually attractive counterpoint in the deck rather than using a dull, straightforward arrangement.
Curtain Call
You can dress up your deck with details to create a minimalist design. You can tie back the drapes for an open view and easily release them when privacy is needed.
Unify the deck structure with the rest of your house by painting stairs leading to the deck and the deck itself with a similar colour to that of your house.
Add brilliant colour with fabrics, wall art, and containers. A medium-height wall can offer a place for growing tall plants. Also, suspending geometric candleholders from an overhead pergola will add a sculptural effect on the deck.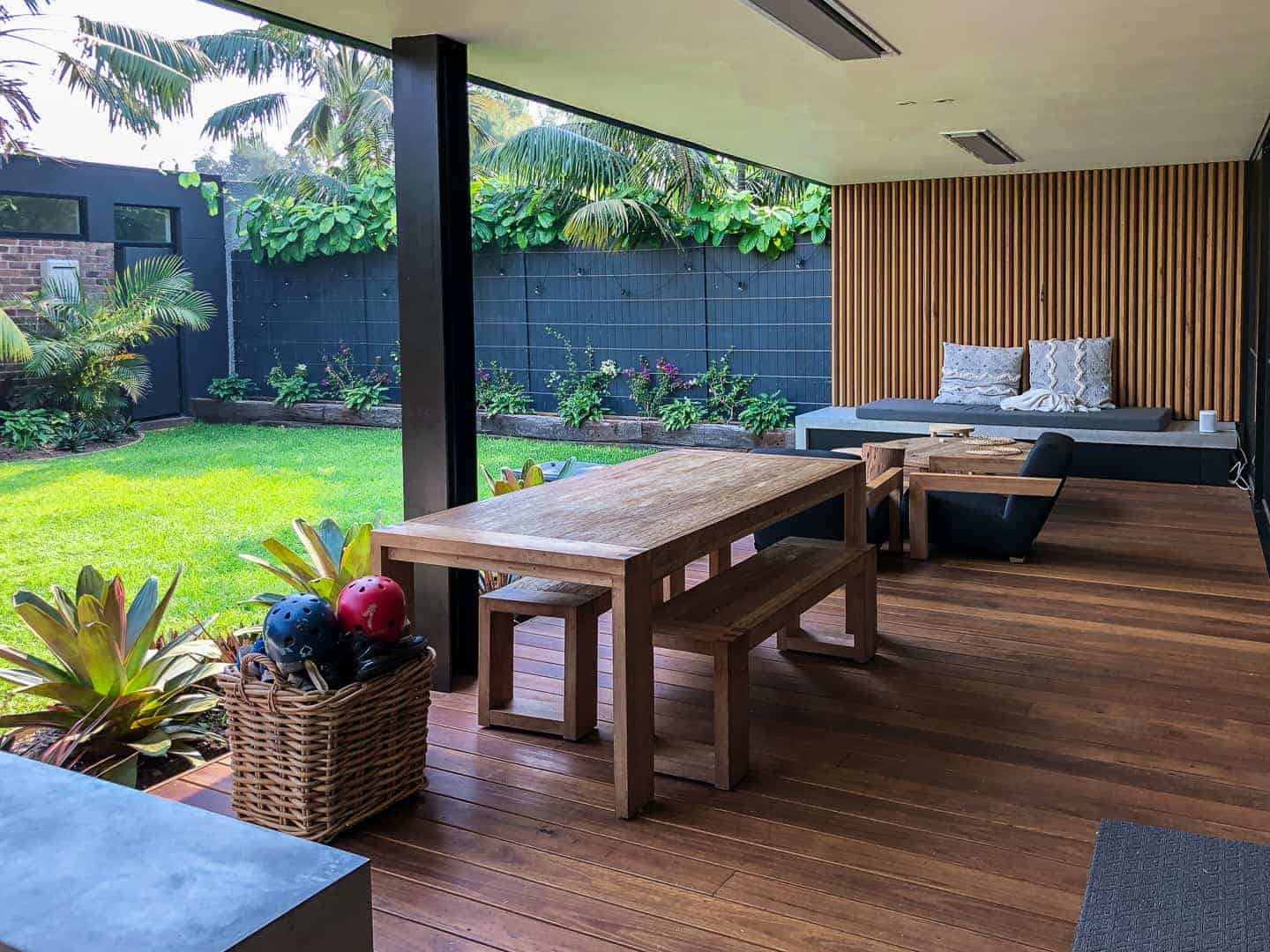 Properly Done Deck
Creating a small space in your deck to use as a resting and reading area. A wooden floor will add colour and textural contrasts when combined with a stone base.
If the deck is not set high above the ground, then it's not necessary to use railings. Without railings, you can add container planters for growing foliage and blooms to make the space look less formal.
Tall grasses grown in containers can complement the wooden floor colour. Decorative metallic lanterns can add to the curves of a deck.
Adding Shelter
Enclose your deck with an overhead canopy and plants. Add hooks on the support beams to hang baskets. If your deck is open, add a roof to provide shade over the outdoor couch.
Keep the deck protected from unwanted views by adding a patterned wall. Place wood pieces at a slanting angle to create a safety rail for the deck.
Hang container planters with wire supports to keep the floor protected from damages resulting from wetness.

Mixed Materials
Add a railing to embellish an ordinary wooden deck. A powdered gray railing tucked between the support beams will add a minimalist look in an elevated deck design.
A beaded board positioned vertically will shield the space from critters and views. You can use budget-friendly materials to add shade such as draping fabric.
Add colour by suspending a painted shelf over a metallic railing. Use the shelf as a spot to display artful containers. Include lights to illuminate the stairs at night.
Modern Maxim
You can make your deck look stylish regardless of how small it might be. Design the deck to offer varying levels of privacy based on the use of the deck and views from the outside.
For instance, slatted sections of wood can make the back area of the deck semi-secluded. A large sliding door can open the space to reveal a stylish fireplace and to allow for wider views.
Build your deck at a similar level to your house to connect it with your house. Add outdoor lights to work as an indicator of shifting to a paved patio from your deck.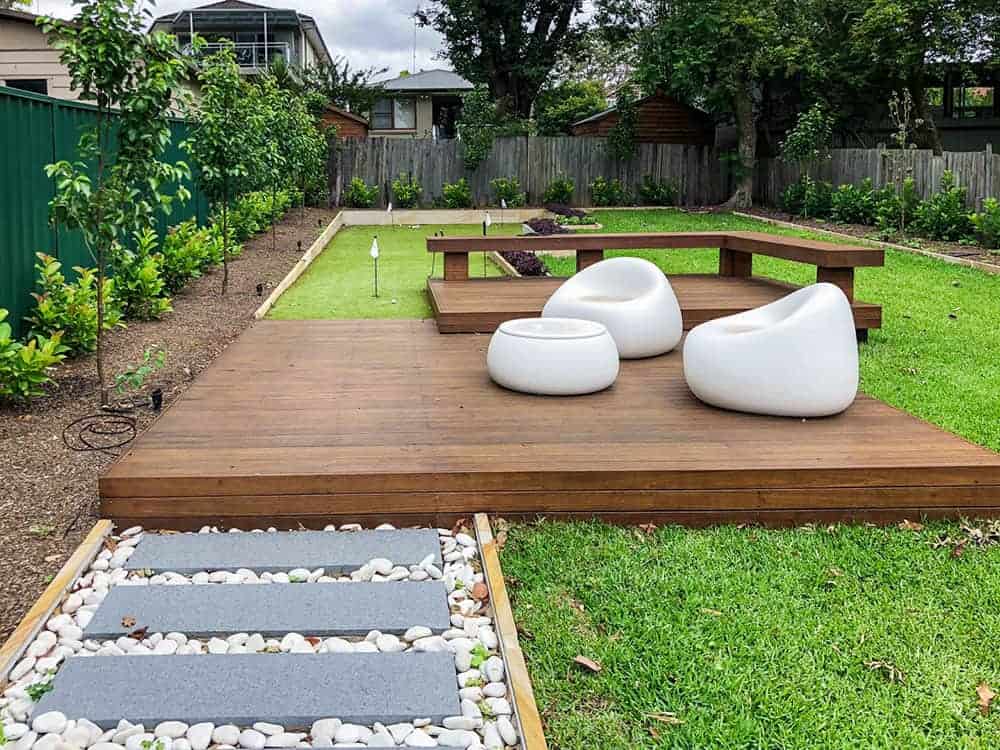 Space for Guests
A deck is an ideal space for hosting impromptu guests. Before adding a fireplace on your deck, ensure the one you choose will keep the deck structure protected from fire.
In this case, a covered metallic fire pit would be your best bet. Use inbuilt planting boxes to dress up deck various structures. Place freestanding containers on the stairs and corners to assist in defining deck borders.
Wide stairs can be used as an extra seating area when hosting several guests. If the deck is not attached to your house or any other structure, then use shrubs and trees to add privacy.
Top Down
Meandering curves in a deck built in a small space would make it look larger. Also, you can include several interconnected areas in a small deck to create an illusion of a larger space.
It a top-down design, you can build a deck the leads from the second story of your home to the ground level. If your home is located in an urban setting where space is confined, then build a story deck.
Use curves when building a deck in a slim area to maximize the available space. Also, use lattice to connect the upper spaces of the deck with the lower ones.
Lattice with a climbing vine can be used to define the deck. The lattice will screen the deck from views.

Soft Ceiling
Create a modern style in a modest space by adding contemporary furniture. Use outdoor fabric to create a simple shade from the sun. Metal railings set vertically can add subtle contrast in a wooden deck.
Place furniture in a way that creates different spaces for relaxing and eating. Choose furniture styles and colours that match other elements.
Ensure the furniture option is meant for outdoor use for durability. Grow tall ornamental grass in planting containers to work as screens. Besides, planting containers are low maintenance.
Under a Tree
You can build a deck around a mature tree. The tree will offer sufficient shade from the sun. When building the deck, leave enough space for the tree to grow.
Screen the deck from views with mid-height walls. Add decorative planting containers to complement the deck.
Check out our recent decking projects here.