There are several types of landscaping materials used on hardscape areas such as edging, walkways, patios, paths, and driveways. Use this guide put together by our garden landscaping experts over at NBG Landscapes Sydney to assist you in choosing landscaping materials wisely.
Generally, plants outnumber landscape features. However, that doesn't mean that you shouldn't use non-plant features to complement your garden design. Here are some materials to choose from.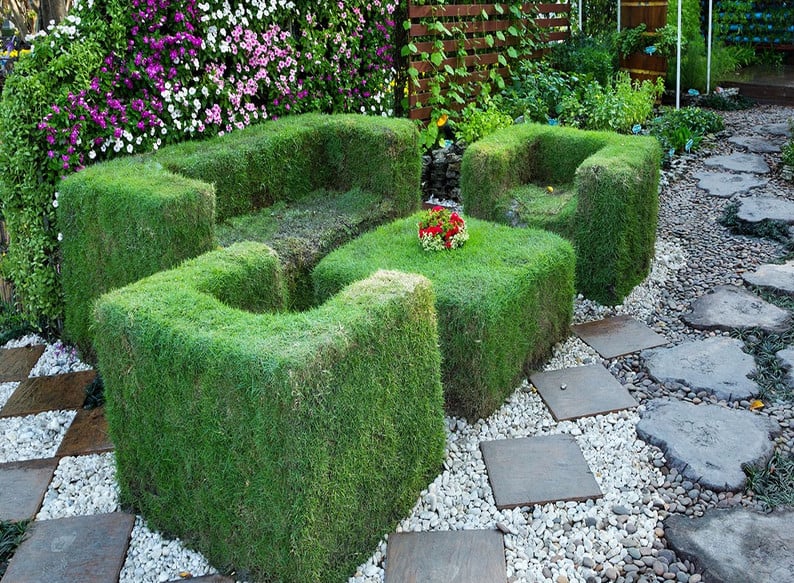 Rock, Flagstone, Pavers, and Brick
Interlocking pavers, brick, and flagstone are classic and durable landscaping materials. You can lay them directly on crushed rock or sand or mortar them in place.
You can maintain them by regular inspection for any loose or broken paving units or mortar. Do any necessary replacements soonest possible. If they develop mildew, remove it soonest possible since it's slippery and unsightly.
Also, get rid of algae and moss, especially in shaded and moist spots. You can get rid of broken mortared bricks and pavers by breaking them into smaller, removable pieces. If the area on which they're fitted gets displaced, re-level it with sand for a flat finish.
Bricks are typically molded out of clay. They're available in a wide selection of colors and thicknesses. They're more expensive than concrete pavers and feature a dull uniformity and coarse finish.
Bricks can be reclaimed or repurposed from older projects but should be cleaned to remove the old mortar. Bricks are commonly used to build the interior layer of brick walls.
They're not durable for patios and outdoor paths. Face bricks are superior in quality and feature a smooth finishing that experiences a lower rate of weathering.
Bricks are generally rated based on their capability to resist weather elements. Bricks rated as SW withstand extreme weathering but below freezing.
Bricks rated as MW can withstand freezing. Another brick rating, NW, includes bricks that can withstand low rainfall and don't freeze. Bricks are ideal for building retaining walls.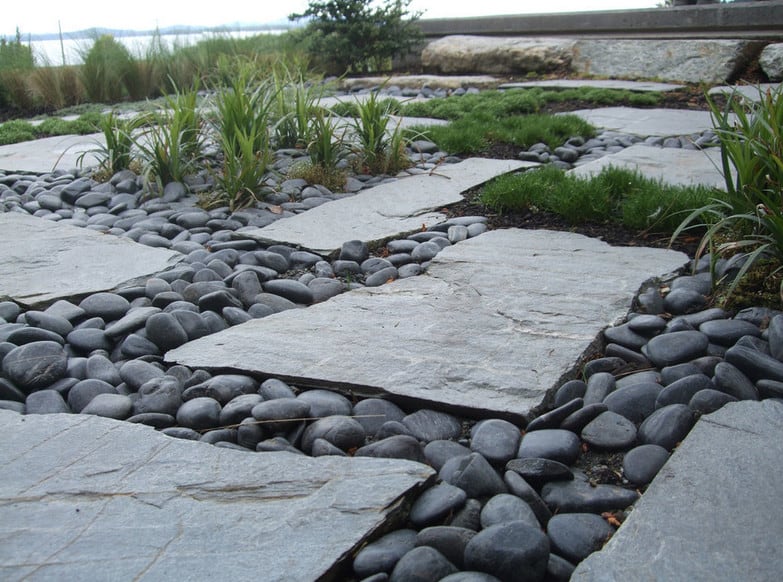 Bluestone and flagstone are suitable for building patios and pathways. They're installed best by setting them with mortar.
You can also lay them on crushed rock or sand. They only require periodic sweeping and washing. Their natural look makes them perfect for use in any landscape.
Concrete pavers come in a wide variety of patterns. Most of them are designed to interlock. They're more affordable than flagstone and brick.
You can lay them quickly on a firm, smooth surface. Interlocking concrete pavers don't have to be installed with mortar. Also, a border isn't required to keep them firmly in place.
One of the best materials for building a walkway or patio is crushed stone/rock. However, crushed rock requires a firm border to make it stay firmly in place. Crushed rock is more ideal for making walkways than gravel.
The irregular edges of crushed rock make them lock tightly together, unlike the smoother and rounder gravel that rolls underfoot such that it doesn't remain in place.
Concrete
Concrete is one of the most long-lasting and cost-effective landscaping materials. It should be mixed, poured, and finished quickly. Allow the concrete to cure completely before using the surface.
However, concrete is not ideal for use in areas where the soil has heaved or moved. For instance, if used near a tree, the tree may push it upward and outward, especially if the area has poor drainage.
Concrete requires regular cleaning to prevent it from getting stained by grease, oil, and rust. Cleaning it regularly will also prevent mildew.
Regardless of how carefully you pour concrete, it'll eventually crack. Cracks not larger than 0.5 inches wide shouldn't be a reason to worry. Also, a dormant crack, that is to mean a crack which is no longer growing longer or wider, shouldn't worry you.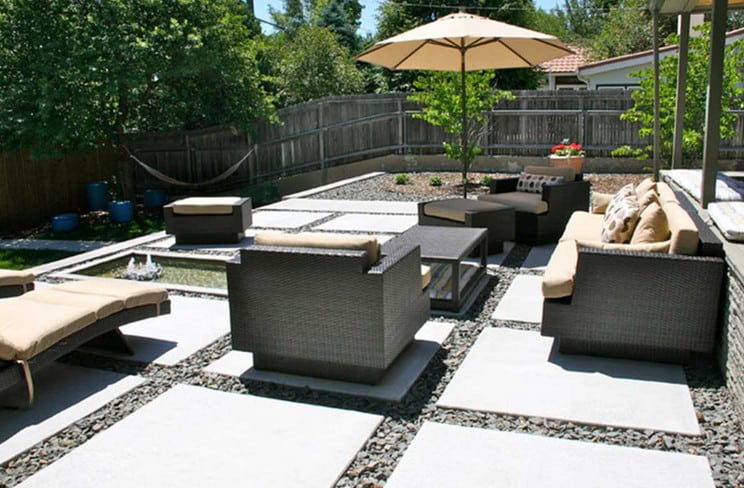 Cracks on concrete pathways or driveways, and not those in a building, can be resurfaced or patched using kits and products such as glue and epoxy mix.
You can also use rust and stain removers to remove stains. In case the cracks are extreme, you may have to pour new concrete.
Asphalt
Asphalt is usually made from a mixture of crushed rock and bitumen. Bitumen is sticky in nature. It's a petroleum byproduct. An asphalt surface should be cleaned regularly to keep it free of debris, dirt, and moss, it should be resealed every three to four years.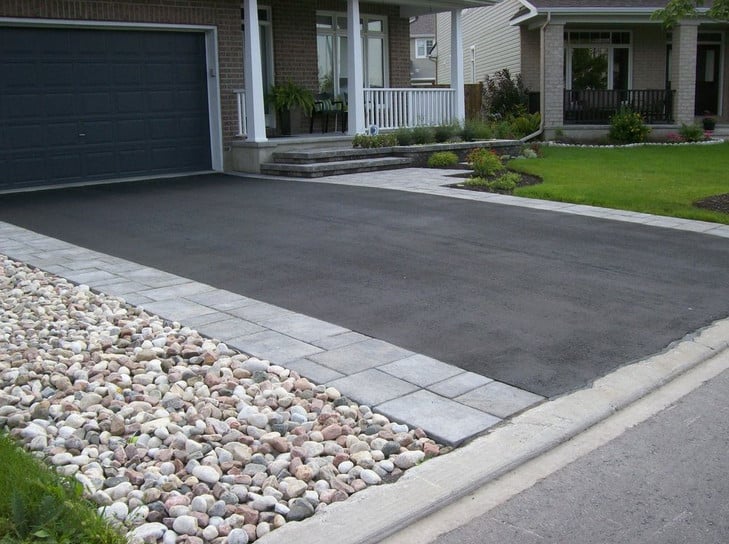 The bitumen component in asphalt gets degraded by heat and UV rays. Consequently, it'll weaken and get damaged by water. Signs of damaged asphalt include potholes, a wavy looking surface, numerous cracks, and wheel ruts.
Products for repairing or resealing asphalt should have a warranty of at least four years and should be coal tar or asphalt-based. Liquid-based crack fillers are effective for sealing asphalt cracks not exceeding 1/8 inches in width.