You can enjoy cooking in your backyard by building an outdoor kitchen. Here are some ideas from our expert landscapers in Sydney for building a dream outdoor kitchen. If you're looking for an indoor kitchen, go check out the kitchen renovation specialists at Houseace!

Dinner Setup
Build a stylish kitchen in your yard with several amenities for a functional outdoor cooking area. Shield the kitchen from the sun and rainfall with a roof.
A roof will make it possible to cook in the outdoor kitchen during any season of the year. Ensure the roof has a dramatic design to enhance your home's architectural design.
Consider the materials you'll be using to install the kitchen carefully. Take note of the kind of maintenance the materials require.
Preferably, use low-maintenance materials. When using wooden cabinets, seal and stain them regularly to keep them in their best condition. If the kitchen is built at grade, drain excess moisture by including a drain.
Include outdoor lighting in your kitchen to enable you to cook and entertain guests at night. Include both task lights and overhead lights. In this regard, consider adding lights over the grill.
Adding a ceiling fan would also be a great idea to keep the kitchen space cool. If you're designing the kitchen as an independent cooking area, include cooking surfaces and storage.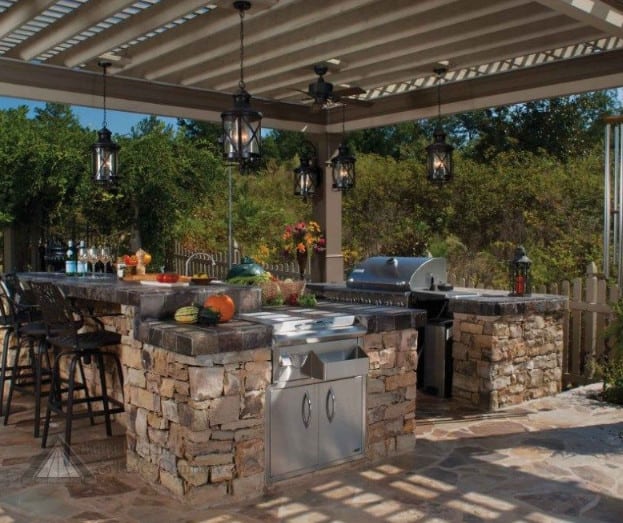 Pulling Up a Seat
Design your outdoor cooking space in a way that invites relaxation. Ensure the kitchen matches visually with the materials and design used in your house, even if you're building the kitchen away from your house.
Even if you equip your kitchen with a cook top, refrigerator, and a small countertop but with an expansive grill and mortared stone, it'll still look magnificent.
If you'll be installing an inbuilt grill, remember it'll be quite challenging to replace it later on. Thus, do thorough research to ensure the grill will accommodate all your outdoor cooking needs. Also, ensure it's durable.
If you'll be building the kitchen near the house, then it won't be necessary to add some elements. For instance, you can include a grill and a fridge but exclude a sink. Add color and soften stone with container plantings.
Urban Cooking Space
If your home is located in the city, don't worry about its limited outdoor space. You can still create a slim kitchen in a small yard. Shield the kitchen and offer privacy by adding a fence.
Choose materials that will reinforce the kind of finishes applied to your home. For instance, horizontal lines on the kitchen cabinet can repeat the brick pattern of your house.
Don't shy away from breaking up your kitchen to make it fit perfectly in a tight space. Keep maintenance low by choosing a durable countertop material. Stainless steel would be a great choice in this case.
Use Available Materials
Dress up plain-looking pavers and concrete to enhance the look of the kitchen. You can design stand-alone dining surfaces or integrate them into the outdoor kitchen. For instance, you can extend and elevate the kitchen countertop to work as a dining tabletop.
Add visual contrast with different paving materials. Using different paving materials will also delineate different outdoor spaces. Also, you can visually extend the kitchen lines by adding a fence on the backsplash of the kitchen.
Use simple materials like plain concrete blocks creatively to make a grand kitchen foundation. Woods like jarrah or ipe are a great low-maintenance and weather-resistant choice for use in an outdoor kitchen space.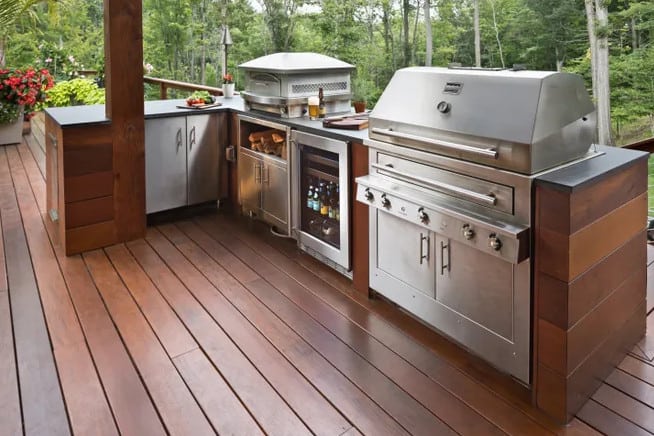 Cooks in Your Kitchen
If space allows, build an expansive kitchen to offer abundant cooking options. When designing the kitchen, map focal points, and traffic patterns. For instance, you can design a circulation area that will direct visitors and cooks. Add a visual system using a wood oven.
Integrate complementary fixtures and a group of lighting in the kitchen. For instance, placing lanterns over major work surfaces in the kitchen and another lantern to light up the wood oven will make it possible to prepare delicacies at night.
A grill with an expansive surface will invite you to use the kitchen more often. For instance, adding a ceramic grill, a smoker, and a gas-powered grill will allow for several cooking options. Allow for drainage under and around cooking surfaces when designing them. Use a trellis to define separate cooking areas.
Chow Time
If your budget is tight, you can still build a functional kitchen in your yard by using budget-friendly features. Creative designs such as a carved wooden window frame will offer visual variety on the kitchen wall.
Hanging an outdoor fabric on the curtain pole would be more affordable when adding privacy than using a cabinet door.
If the kitchen doesn't have an overhead shelter, ensure the inbuilt items or items you'll be leaving outdoor can withstand weather elements. For instance, a concrete countertop can bear weather elements.
Provide shelter and shade over your kitchen's eating and cooking spaces by adding a pergola. Set paving stones in random patterns to offer an underfoot with visual variety.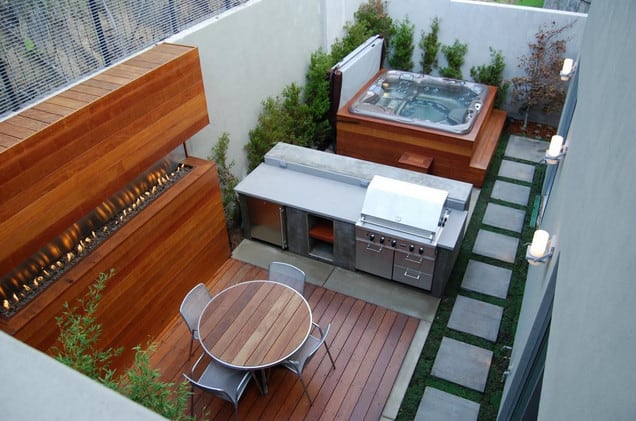 Under the Shelter
Adding a roof over an outdoor cooking space is a great idea. You can build an outdoor cooking space in stages. That way, you'll be able to create a design that includes all the key elements you want. For instance, include a fireplace and create storage for firewood in the outdoor kitchen cabinet space.
If you want a kitchen design that offers flexibility, then don't include permanent elements such as inbuilt grills. That way, you can easily replace or repair elements in the cooking space. Add a sense of visual backdrop in the kitchen working space by adding a stained glass.
In case the kitchen will be built near a border of the yard, then add plants such as bamboo to screen the kitchen from unwanted views. You can soften outdoor kitchen edges with plants like vines and integrate them effortlessly with the rest of the landscape.
Indoors To Outdoors
Design an outdoor cooking area in such a way that it takes advantage of its outdoor location. Solve any design challenges of the outdoor kitchen with the help of its location.
For instance, connect the outdoor kitchen to the main house to eliminate the need to include a fridge or storage space in the outdoor space.
Create two separate eating spaces. One of the eating spaces should be casual and the other should be formal. The casual space can include a seating area set at the height of a bar stool whereas the formal space can have a dining table. Ensure there's enough space for your guests to sit and relax.
It'll also help to include an overhead roofing shield over the kitchen. Since the roofing may eliminate natural light from the kitchen space, cut a skylight in the roof to allow natural light into the space during the day. Add an inbuilt heater to make the outdoor kitchen more usable during cold nights.
Use simple but durable material choices when building the kitchen. For instance, a wooden countertop, concrete floor with a stained finishing, and appliances made of stainless-steel would make the kitchen sleek, yet they're simple and durable materials.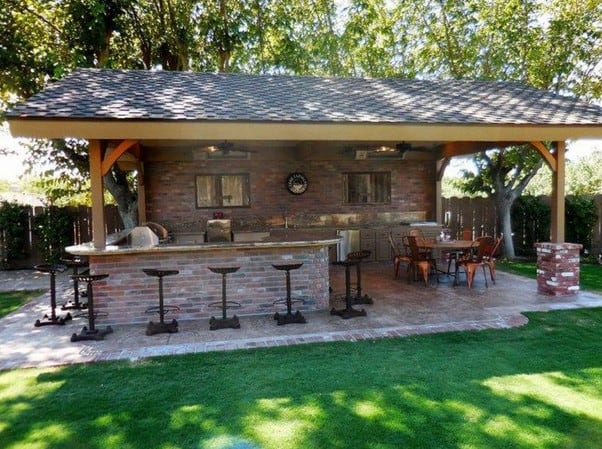 Outdoor Kitchen in the Porch
You can take advantage of your porch to create an outdoor cooking space. If space allows, include a sink, storage space, and a cooking surface. In this case, ensure the porch is covered to protect the cooking space from weather elements.
A coveted space near the main house would be advantageous since you'll easily run water and gas lines to the outdoor kitchen. Break up the visually boring wall space by mounting decorative elements such as a fish cutout.
Since building a kitchen on the porch is just like an extension attached to your house, ensure the materials and colors used are consistent. That way, the outdoor kitchen will be integrated with its surroundings.
You can also consider a kitchen design whereby the kitchen uses both the patio table and interior rooms for dining rather than including an inbuilt dining space.
Grill Ready
There are several extras you can add to your outdoor kitchen to make it more functional. For instance, if the outdoor kitchen has an overhead shield, say a pergola, ensure it has electricity. Also, include a fan on the ceiling to enhance air circulation.
Add visual interest by used patterned brick beneath the kitchen work surfaces. If space allows, add several storage options. For instance, you can hand a rack on the kitchen wall to store cookware and utensils.
Also, you can design the countertop in such a way that it extends beyond the cooking area to offer extra space for serving meals and eating.
Since foot traffic can easily damage grass in the outdoor kitchen area, protect it by surrounding it with landscaping elements such as river rock.
Landscaping Company Servicing Sydney Metro
NBG Landscapes provides landscape design, construction and maintenance services to the entire Sydney region. Our landscapers have over 10+ years of experience in landscaping residential and commercial properties in Sydney. More information can be found on our homepage over here.
Also Read: 21 Patio Landscaping Ideas for Creating a Cozy Outdoor Space