How Software For Landscape Design Helps
Software can be a tremendous tool for those who are designing features for landscaping Sydney homes or buildings. The benefits associated with this type of program can give a Sydney landscape designer like NBG Landscapes advantages that they did not have before.
3D rendering allows the landscaper to have the ability to work with virtual solid tools that allow for expanded planning, designing, and creativity. This can increase the dynamics associated with management and logistic variables that rate the true value of a landscaping program.
The software can retain many types of information that are deemed an asset for those who are developing the outdoor environment.
It allows the layout of the landscape to be manipulated in order to see how various structures and elements should be positioned.
You can even see where existing power, gas, telephone, and water lines may be located in order to avoid any problems associated with excavating those areas.
The arrangements of the plants are an essential part of the landscaping design and the software can be used to organize these elements around the current environmental structure of the land.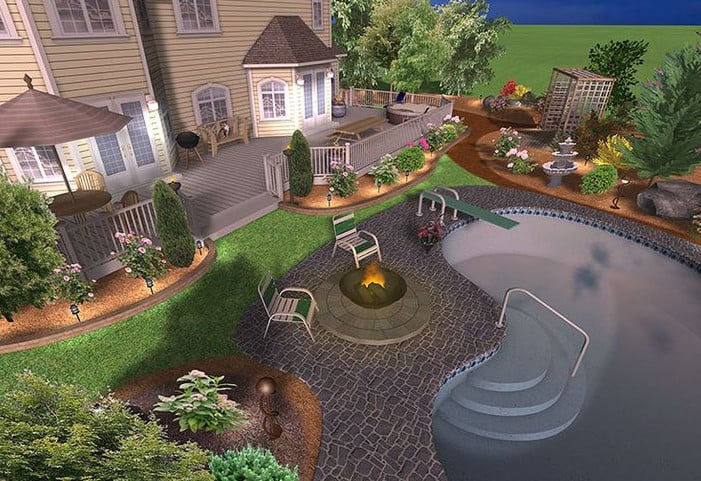 Landscaping software has a plethora of items located in its library allowing the landscaper to design without limitation.
The library will hold many different types of pre-drawn elements to use during a project. Items in the library can include such things like trees, shrubs, ponds, fences, gardens, patios, furniture, grass, paths, flowers, retaining walls, plumbing, plots, waterfalls, and covered structures.
Landscaping software allows for the designer to see various types of visual images of how the landscape will look with the current environmental structure.
It gives you the advantage of seeing the correct layout before the actual work begins to commence. The programs can be used by professional designers or homeowners to see what type of environmental layout is best.
Photos can be taken of the current landscape that is around the house or building and input them into the software, allowing for greater detail when designing.
By using an accurate photo of your home or building, allows for the software to render an accurate assessment of the landscaping plans.
There are two different types of software: 2D and 3D programs that allow for the landscaping to take on many different aspects.
A 2D program may be less expensive than a 3D generating program, but the rendering capabilities of the three-dimensional program will allow for greater detail and design.
After acquiring the software, it is best to look at the structure and layout of its controls and to become familiar with them.
Most of these types of programs will have a wizard to guide them through the basics of the software. You can compare different views and designs for the landscaping.
Preparing to create a landscaping plan takes a large amount of dedication and commitment. You will also need time, skills, and a budget in order to complete the project.
The program is used to assist in making the job easy and successful, leaving a positive outcome for everyone.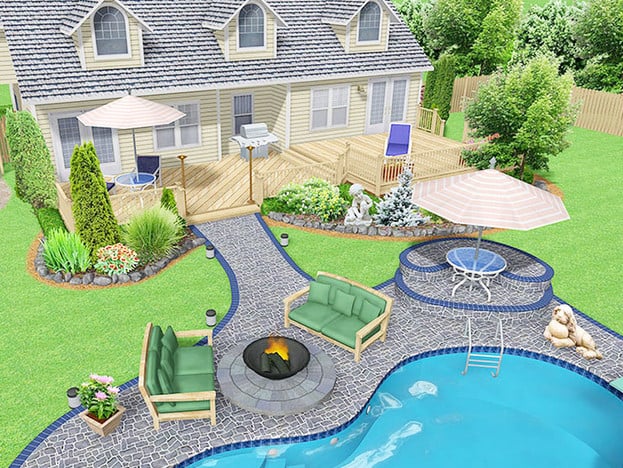 Landscape Design Software 64bit
It has not been easy to develop visual landscapes but now it has been made simpler with the introduction of landscaping design software. There are different types of landscaping software with varying costs, pros, and cons.
Therefore, you need to take your time to examine the software program you are about to buy to avoid being frustrated eventually.
People have different needs, preferences, and choices no wonder this software is available in different types to cater for the needs of everyone.
This article will help you understand the pros and the cons of landscaping design software to help you make a sound decision when buying one.
The Pros of a 64 Bit Landscaping Design Software
The software is very effective in developing and producing landscapes. You don't have to be on-site so as to produce a landscape layout!
You just need to feed necessary information into the software and it will develop a convenient landscape with ease. In addition, you have the opportunity of checking the theoretical landscape designs that can be used in future.
This is an additional benefit which makes most people who use this software have a rough idea of what to expect in future and how to make their current projects relate to future projects.
Starting a landscape project in Sydney could be easy but having the plan in progress and working is very difficult and here is where the software comes in.
The software can be used to work out any potential problems that you may encounter even before you commence with the job.
It is hence of great help in crisis management to avoid wasting a lot of time and resources on a single project after experiencing a problem.
If you know the problems to encounter in a project before you even start, you can get their solutions beforehand. In addition to managing future problems, it is possible to adjust the project as per the client's needs. With the use of the software, you just need a little time to get it done.
The Drawbacks of Using a Landscaping Software
Lack of creativity is the main disadvantage of using this software. Before the software was introduced, landscape developers used to take their time thinking of the design to have, how to make it outstanding and unique.
This has however changed because most people now depend on the software to get ideas. Although the software is effective, most developers are not creative and they only depend on the software to develop and produce their final design.
Although the software can be applied in all types of landscape designs, it limits the variety of work to be done. For instance, since there are many types of landscaping software to choose from, it could be a problem if you choose the wrong type because you may not have the resources needed to make further modifications.
This might limit the types of landscaping projects you can take as a developer. In addition, you may fail to have a good working relationship with your client since you work off-site most of the time.
Therefore, if you don't have good communication skills, you may end up losing some clients who prefer consultations, advice, and opinions.
It is evident that the software has many pros although it has its own drawback. However, most of these cons are limited to how you handle the software and the type of software you've bought.
You just need to be resourceful before buying a landscaping design software to avoid having limitations or being handicapped when using the software.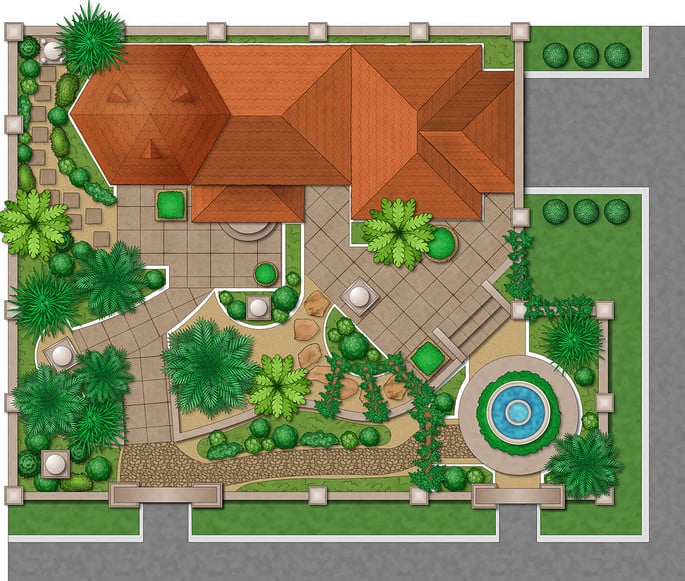 Using Landscape Design Software to Create the Yard of Your Dreams
Landscaping your yard doesn't have to be left to a professional. You can become your own professional landscaper by utilizing some of the many great landscaping software programs on the market and pay a mere fraction of the cost you would pay someone else to come in and do the job for you.
Consider being able to sit in your favorite chair and plan your entire landscape all from the convenience of your laptop or desktop computer.
Without the assistance of any shovels, digging or planting, you get a virtual tour of exactly how your yard will look all before one piece of dirt is disturbed.
With most software, you are able to create a virtual map of your property by simply scanning in a photo of your yard and dropping plants and other features in digitally.
Others require you to impute measurements of your yard space before you can begin to lay out any landscaping drafts.
There are many software programs on the market that will enable you to do everything from chart growth of your plants to watching the shadows cast at any time of day during the year. Knowing what kind of software to buy is key to having your own personal needs met.
There is no one size fits all software because every yard and every person is different. You are no exception. For you to know what to buy, you must first figure out what you want to do.
There are software programs out there that are free and others you can purchase for your computer. Again, this depends on your need and your intention in using the software. Here are a few examples of features you can get in some landscaping software:
2-D, 3-D Viewing and Design
Virtual Tour of Property
Seasonal change preview
Object and Plant Libraries
Gardening Basics
Plant Care Guides
Regional Planting Guides and Recommendations
These are just a few features you can find in landscaping software programs. Some are so advanced that you can estimate the complete cost of your entire project at every stage of the process.
Features like a sprinkler system add-on will allow you to develop a plan to chart flow rates and even give you a shopping guide for pipes and emitters.
Whatever software you decide to go with, take the time to learn it. Do not expect to be able to install it and immediately start to plan.
For it to be done correctly, you must learn all of the features the software has to offer and how to implement them into your own landscaping dream design for your yard.
But do not be intimidated by the software. Anyone can learn to use it, and developers expect DIY when they are designing it.
No matter how you go, online or purchased software, you are still choosing the most inexpensive and cost-effective way to plan your landscape.
You can sit and make virtual changes on your computer screen and know exactly how everything will look before you go and spend any money on labor or supplies.
With the right kind of software at your fingertips, you can create the yard of your dreams all from the comfort and convenience of your computer screen.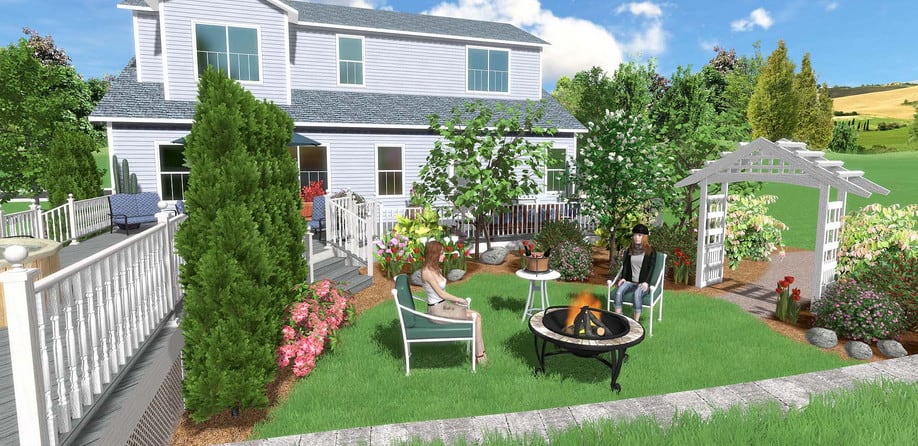 TOP 3D MODELING SOFTWARE FOR LANDSCAPE ARCHITECTS
There has been a recent trend by the landscape architecture profession to adopt three-dimensional modeling in the creative processes and design intents. This increase has resulted in a surge of 3D modeling software programs in the market.
Most of them come at great costs. Some, however, are cheaper and even completely free! Regardless of your skill level or financial resource endowment, there are 3D software programs that are relevant to your needs. The five programs listed below may provide the crucial starting point.
Blender
Blender is a free open source architectural application that is designed for studying the arts and crafts of 3D modeling.
It features an interface that consists of three windows and which may be customized to suit the unique requirements of the end user. It also possesses a versatile interface besides all the requisite 3D modeling, rendering, and animation tools.
Its layout is somewhat complicated, especially to new users. The software, however, comes along with a well-structured manual.
The software website also contains plenty of step-by-step tutorials that are geared towards guiding the end users in utilizing it effectively.
Owing to the fact that it is open source software, it accepts reviews, inputs, suggestions, and fresh ideas, and hence gains a lot from end user developments. This results in continuous improvements and periodic bug fixes.
Website: https://www.blender.org/
SketchUp Make
This software contains most of the features of standard 3D modeling software yet is free-of-charge and is also easy to use.
It is very fast, more reliable and fun-filled application software that allows end users to create, modify, and view 3D ideas faster and easier.
It allows its users to even incorporate Google Earth into their projects and post their latest creations.
It, however, has limited functionalities and lacks some of the advanced features of the alternative software programs. It is thus mainly relevant for beginners and intermediate end users/designers.
Website: https://www.sketchup.com/
AutoDesSys Bonzai 3d
The manufacturers of this software program designed it in such a manner as to provide conceptual modeling much the same way as SketchUp. It, however, has specific tools as opposed to SketchUp that has more general tools.
It combines the NURBS (Non-uniform rational B-spline) curves with the polygon modeling and in so doing offers superior flexibility and greater precision while working.
It also has embedded instructional video feature which enables end users to tutor themselves. End users may also exchange ideas with one another and seek support from the developers courtesy of the dedicated 24/7 online forum. It costs roughly $500.
Website: http://www.formz.com/
Nemetscheck Vectorworks Landmark
Vectorworks is a robust, easy-to-use software program that is primarily intended for landscape architecture.
It allows its users to design objects/structures in both the 2D and the 3D modeling and as such, integrates the two besides allowing its users to seamlessly switch to and from either. For this reason, it eliminates the need for AutoCAD.
It comprises several site detail libraries as well as other industry-specific tools e.g. a parking tool that enables designers to quickly lay out parking areas.
It even comprises its own plant database that contains the plant names and other botanical information. It may be customized by adding other data.
Since it is not an industry standard software, it grants the designers the freedom to import and/or export data to and from a wide variety of other software programs e.g.
SketchUp, AutoCAD, and 3ds Max. It generally grants designers the ability to create accurate plans as well as spectacular presentations at a cost of only $2,195.
Website: http://www.vectorworks.net/landmark
Autodesk 3ds Max
The Autodesk 3ds Max is a major player in the 3D modeling community. It is designed to deliver powerful rendering experience by way of offering subdivision, polygon, and NURBS modeling. Its end results are smooth surfaces with utmost accuracy.
It features a fully customizable interface that streamlines work space and by extension, productivity. It also has a plethora of editing tools that enable precise model manipulations.
Its latest functionality, the population feature, grants users the capability of adding people to a scene in order to give it some life. The software is therefore suitable for landscape architecture modeling.
The software can also support the AutoCAD pattern files and thus make it possible to create visually interesting and animated CAD illustrations. It may be quite tricky and cumbersome for a complete beginner to master the program.
It, however, comes along with online tutorials that aid designers to tackle any problems. It is all factors considered, the best option for three-dimensional design needs. It comes at a cost of $3,500 to $4,000.
Website: https://www.autodesk.com/education/free-software/3ds-max
The aforementioned are the best 3D modeling software programs for use in landscaping architecture.
It is however strongly recommended that a prospective user takes his time to learn and familiarize himself with the respective software first before embarking on its utilization.