Almost all gardens have bricks. They are an extremely reliable element in landscaping. You might assume that bricks are boring and obsolete. However, you can use some creativity and transform your landscape into an attractive place using bricks.
Here are some creative ideas and tips on how you can landscape using bricks. Go for the ideas that blend with your style. You can even experiment with all the ideas.
Making a Brick Pathway
This would be one of the first things to think about when planning to use bricks in your landscaping project. The amazing thing is that you can even play with different brick colors, arrangements, and patterns.
For instance, you can set up a square or a round brick pathway. You can use smaller bricks along areas that have limited space and alternate them with larger bricks along larger spaces.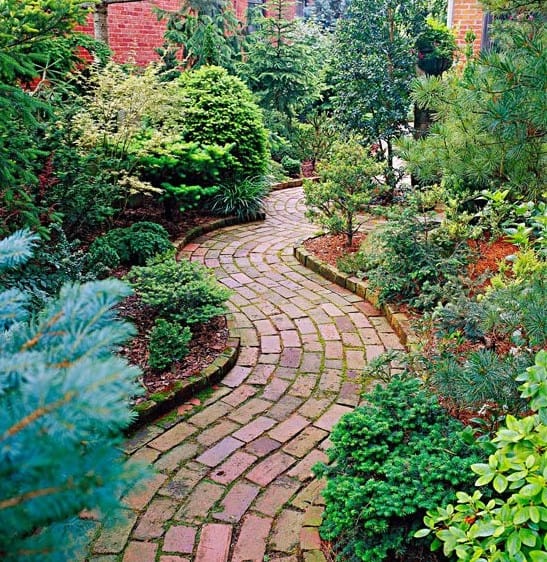 Never shy away from mixing different bricks. For instance, concrete bricks can change the design of garden bricks when you place them together with red ones. You can even use bricks that were leftover from other home projects. This would minimize the costs of landscaping.
Planters and Candleholders
You can reinvent your landscape with bricks by using them to make candleholders and planters. Utilize such planters and holders in growing plants or placing candles respectively. For instance, you can get citronella candles and use them in the brick candleholders during summer nights.
They produce a pleasant scent while still keeping insects away. You can also add some succulents to the bricks to give your garden a luxurious and elegant feel.
A Garden Bench
In case there are some unused bricks around the garden, you can use them to make a bench rather than letting them sit unused. They will be very useful whenever you have some guests around. Use your creativity and imagination when making the bench.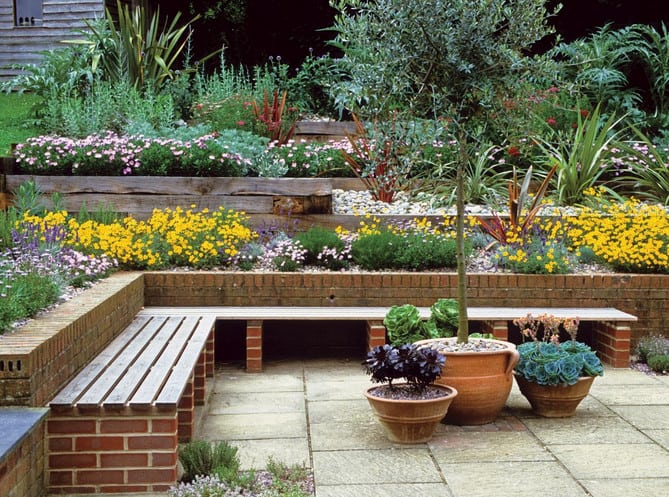 For instance, if you have a garden fire pit, you can set up a brick bench around the pit. This will transform the spot into a nice place for relaxing and catching up some warmth on a chilly evening. You can as well set up square benches.
Rethink over and over again on the kind of bench you want before setting it up since moving it afterwards would be challenging.
Edging With Bricks
Another great idea is to edge the landscape using bricks. Considering that bricks are often easy to work with, you can make use of them to edge your backyard.
You can choose to edge your lawn, fire pit, fountain, and pathways with bricks. You can even use them to edge your pond or the house. It all depends with the kind of design you want.
A Brick Waterfall
In case the aforementioned suggestions do not sound good enough, then creating a brick waterfall should surely hit you. Use some bricks around the space where water would fall gracefully. This would only require a corner such that it won't interfere with existing design elements.
It will be vital to use some rubber liners when making the brick waterfall. They're more resistant when compared to plastic pond liners.
Also add a pump and hide it behind some bricks. Hiding it will ensure it does not interfere with the overall look. You won't have to use silicone or glue to hold the brick waterfall in place since bricks have enough weight to remain stable when stack properly on each other.
Birdbath
Any gardener who loves having birds around the garden will surely like the idea of using bricks to set up a birdbath. You will just stack them together and make a birdbath.
Place a bowl with water on top. You can set up the birdbath anywhere you would want and even add food for your little flying friends near the birdbath.
Decorating With Colorful Bricks
You can include your family in the project by using painted bricks. Get some bright paints and let your kids help with painting the bricks. They will surely have fun when painting.
You can go a step further to write down the names of family members or positive messages on the bricks. You can also let your kids draw anything they want. Then use the painted bricks to make a walkway or a small play field.
You can make your kids love spending more time outdoors by integrating some DIY ideas for making a backyard playground.
Making a Herb Spiral
This might not be a common idea and it may sound weird when it comes to using bricks for landscaping. But you can create a focal point in your garden with some bricks and colorful plants.
You only need to set up some bricks in a spiral ascending manner. Then you can use some pots to plant some herbs or flowers and let them climb around the brick spiral as they grow. You can get more creative by combining colorful varieties of herbs or flowers.
Feel free to choose any varieties. It is not even a must to plant herbs in case you don't like them. You can use any other plants or flowers.
Making Brick Books
Another idea that may sound somehow odd is making brick books. However, you should not shy away from testing your creativity in using bricks to create unique landscape elements.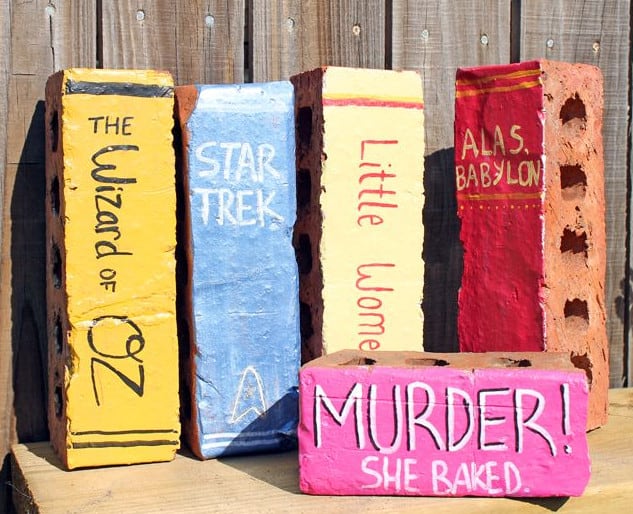 For instance paint some bricks one by one. Then write the names of authors or book titles you love on each brick. In case you have a reading area at your backyard, it would be more interesting to place them around that area.
Making Garden Beds
You can get creative with bricks to make flower beds or raised beds using bricks. Whichever kind of garden bed you have in mind, bricks will be essential in making it decorative.
Bricks have the benefit of being sturdy and this makes them a great choice when landscaping. Hence, you can learn on how to use bricks to make a garden bed. You will enjoy the garden bed for many years and it will protect the plants without much effort.
Making Tree Rings
You can reuse old bricks to make a ring surrounding a tree. This is a unique idea and your neighbors might not even be aware that such a cool idea exists. All you will do is stack some bricks around a favorite tree to create a brick ring around it.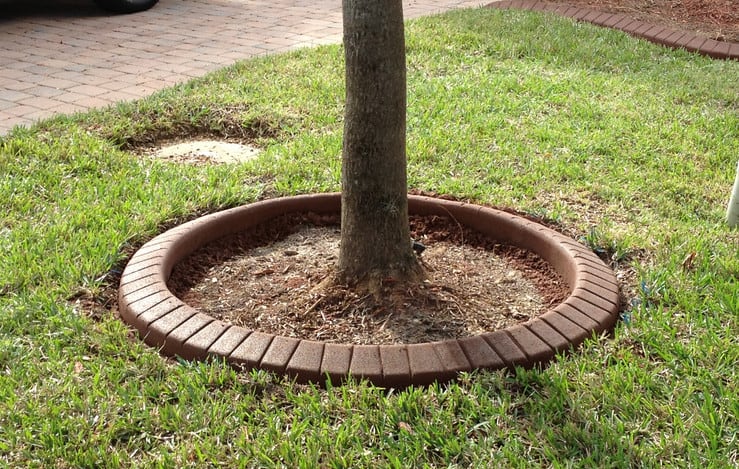 You can fill the ring with some soil and grow herbs or flowers there. You may also add succulents and this will contrast well with a larger tree.
Alternate Bricks With Some Grass
You can transform a dull pathway into a very interesting one by using some bricks. You can alternate between the red bricks and the deep green color of grass to create an attractive contrast.
It will also add to your garden's aesthetics. You may also go ahead to add gray stones to give the path an extra classy touch.
A Fireplace Grill
Homeowners who love enjoying a nice barbecue would appreciate the idea of creating a grill using bricks. It is not too simple to set the brick fireplace grill, but it is a popular construction in most backyards.
The size and shape of the fireplace will depend on your personal preferences. But if you often get many visitors or your family is large, then it would be a great idea to set up a larger one.
However, it might be a costly project, thus make a budget for setting it up. You may have to buy some bricks and other supplies for making the brick fireplace grill.
Setting up Raised Planters
In the previous brick landscaping ideas, you simply plant some herbs or flowers in a brick planter. In this suggestion, you surround your new or existing planter with bricks.
All you have to do is to set up bricks around the planter. The style and size to use will be up to you to decide. You can go an extra step to paint the bricks to make them look more decorative around the raised planters.
Creating Natural Pond
This might sound like yet another unusual idea, but you can use your old tub and bricks to create a natural pond in your backyard. Use some colored bricks to make a round section of the yard and put the tub at the middle.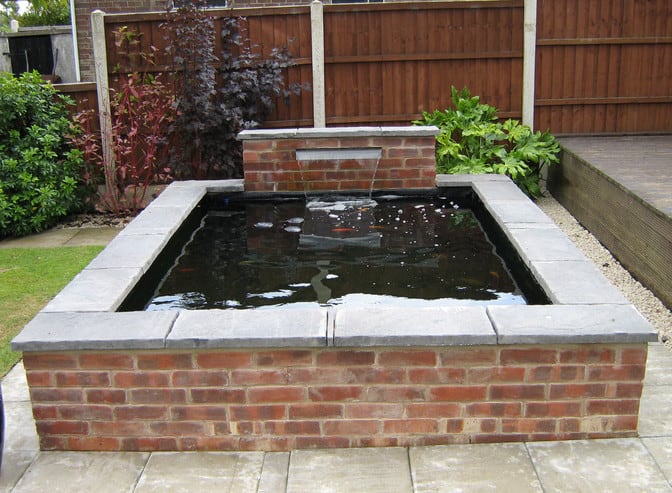 Then add some water and grow aquatic plants in the tub. Add some green plants outside the circle of bricks to make the entire pond look more natural.
Conclusion
It is a nice idea to landscape with bricks especially when you have leftover bricks lying idle on your compound. If you do not have leftover bricks, it would be a rewarding investment to buy some to enhance the look of your backyard.
In case you feel bored of any idea over time, you can simply dismantle it and reuse the bricks for another idea. From grills and fire pits to borders and edges, bricks are very versatile when it comes to landscaping in Sydney.
Collaborate with NBG Landscapes Sydney
NBG Landscapes provides luxury landscaping services in Sydney. We do everything from landscape design and consultation to construction and maintenance. Feel free to reach out to our landscape gardeners to discuss about your projects in Sydney.