The overall look of a backyard can be completely changed by setting up an outdoor fire pit. It is not really complicated to set it up and moreover, it will make the outdoor space feel and look more welcoming.
The fire pit can also be used as a cooking spot along with offering warmth whenever you need to spend time relaxing outside on a cold evening.
This article offers some tips for choosing an outdoor fire pit and project ideas landscaping companies use to make the pit.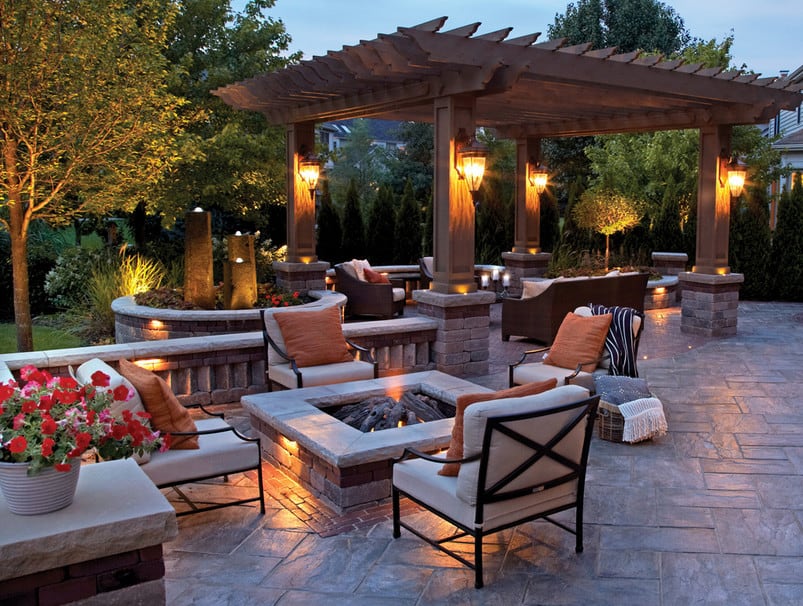 Tips and Suggestions for Choosing an Ideal Fire Pit for Your Backyard
Choosing an Appropriate Type
You should start with choosing the ideal type that can meet your needs. Luckily, there are many options to choose from such as portable, built-in, and prefab ones.
A portable fire pit would ideal when you want it for both outdoor and indoor use.
Size
The space available in your backyard will determine whether to go for a small or big pit. Another thing to consider with respect to size is the overall number of people who will be using the pit.
The height and arrangement of seats should also be considered.
Choosing Between a Fireplace and a Pit
Most homeowners are always confused when choosing between an outdoor fireplace and a fire pit. Ideally, the best thing to do in this case is to come up with a list outlining the benefits and shortcomings of each option and then assess the better one for your backyard.
The Ideal Fuel
There are many types of fuel that can be used in the pit. Whether you go for wood, propane or ethanol, ensure you consider safety requirements before choosing the best fuel.
The Ideal Location
The first thing you should consider when selecting an ideal location for the fireplace is safety. This is very important especially when you have kids and pets. Ensure you set it up at an area where they wouldn't reach it easily.
The area should also be away from their play area. Next, consider the available space. Here, consider a location you can set it up without wasting any space.
Building Regulations
Some local authorities have special requirements for landscaping projects in Sydney such as adding fire pits. Some regulations restrict using certain types of fuel or materials.
Hence, you should check with your local authorities to know whether you will need to observe any special regulations before setting up the fireplace.
Cost
Naturally, different fire pits have varying prices. Hence, you should plan beforehand to know the estimated cost of setting it up. The cost may also vary depending on the type of materials and fuel you will use.
Fill Material
The most crucial factor to consider here is the aesthetic nature of the material you will be using and whether it can absorb heat. You can choose from options such as river rock, lava rock, and recycled glass.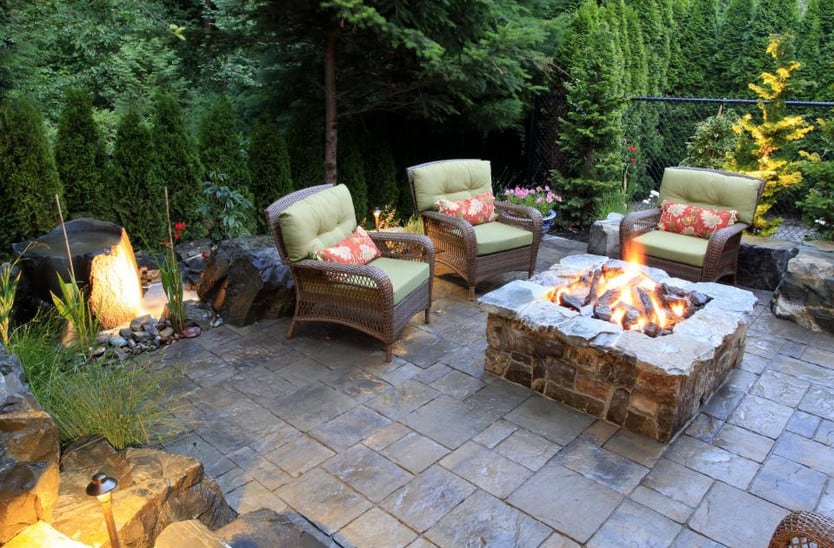 Fire Pit Design Ideas
A U-Shaped Type of Seating
An ideal landscaping idea with fire pits is choosing a U-shaped type of seating arrangement around the pit. Whether you would opt for a rectangular or rounded shape, u-shaped arrangement makes it possible for everyone to enjoy the heat equally.
A Fireplace under a Patio
Although it may sound like an unorthodox idea, placing the pit under your patio comes with the benefit of usability in any weather condition.
What would be more exciting than enjoying the warmth from a fire yet it is raining? However, ensure you consider all safety requirements to avoid accidents.
Earthy Designs
You can also choose from earthy design options for your fire pit. For instance, you can opt to have the pit made using crushed stone. Such a design can be completed with a picnic table that has a rustic appearance.
You may consider adding an earthy-looking fire circle using natural stone to give it a captivating raw touch. It would be great to add garden furniture around the pit to give the area an earthy tone, says BUR-HAN Vancouver landscaping.
Fire Sculptures
If you are searching for an artistic idea for your garden fire pit, then you should try a fireplace sculpture. Rather than choosing a regular pit at the backyard, you can opt for a sculpture.
In this option, the fire will climb up the sculpture. It will offer light and warmth just like a regular fireplace. This option is preferred due to its originality and uniqueness.
A Sunken Pit
Sunken fire pits are ideal for warming the feet during chilly evenings. The pit is basically sunk in the ground. It is easy to reach the pit and you may roast marshmallows as you enjoy the warmth.
However, a sunken fireplace is not ideal for a home that has pets or kids for they can trip and fall into the pit. If you still want to have it, ensure kids and pets cannot access it especially in your absence.
Scrollwork
In case you have cast iron furniture in your garden, then you may choose a pit with elegant scrollwork. You may go with scrollwork that has a bluestone base, topped with wrought iron.
This would make an elegant model and this will make the pit have a vintage style. It will all depend on your personal preference.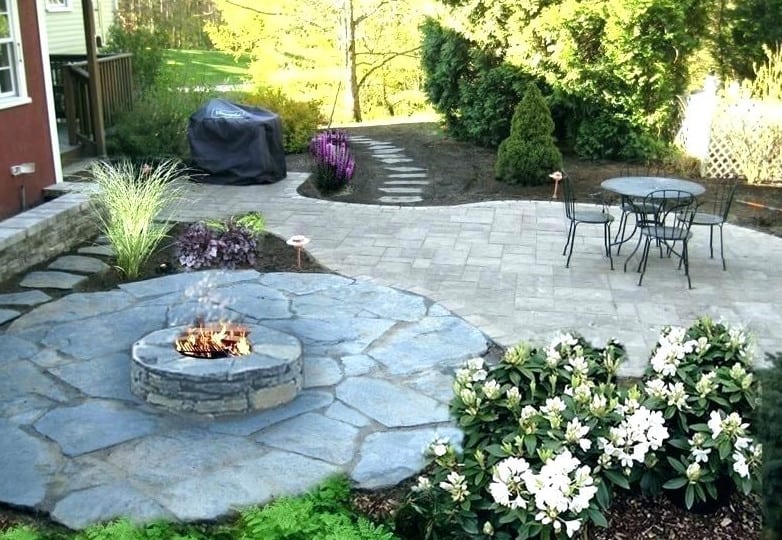 Modern Chimney
Another interesting idea for your landscape is using a modern outdoor chimney. Its minimalistic look and smooth lines will make it stand out as a modern fireplace.
Some chimneys look futuristic whereas others have simple colors. For instance, you can go for a white one to give the pit an exquisite touch. You can pair the chimney with lime green seats to make it have a more modern look.
A Fire Wall
Rather than relying on regular landscaping suggestions, you can try a backyard fire wall. In case you are constructing a wall around your backyard, or you've already sunken part of it, then it will be a good idea to create a nice fire wall out of it.
You can place a glass surface in the wall and create the fire wall. This option comes with the benefit of allowing you to have more fire than you can do with regular fire pits.
A Gabion Style Fire Pit
If you have never heard about this style of fire pits, it refers to an Italian term meaning a cage filled with rocks. This style is common for dams and walls. You can also use it when making the fire pit.
You can simply buy a metal or wooden cage and then fill it up with rocks. Place more rocks above it to make the pit.
However, ensure you add the rocks when the cage is placed at the spot you will want to have the fireplace, otherwise, it will be extremely heavy to shift it to another area afterward.
Adding a Coffee Table
Another suggestion is setting a rectangular or circular white marble to surround the pit. You can use it as an outdoor coffee table. It will be useful in keeping drinks warm around the fire.
You can also place some decorative outdoor items on the table. However, ensure the items will not be damaged since they will be close to a fire.
Industrial Design
Another original idea you can choose is an industrial fire pit design. In case you have some leftover materials from a recent construction project, you can repurpose them to make the fire pit.
Concrete slabs make a great base for setting up a pit. Rather than making a pit with a regular design, choose a steel or aluminum pipe.
Drill some big holes in the pipe for the fire. You can then add rough rocks around the pipe. You now have an industrial design for your pit. Although this idea is a bit hard to implement, it is worth the effort.
A Water Pit
An original yet interesting idea is putting some water around a pit. This enhances safety and makes the overall set up look more appealing.
Adding small stones into the water will even make it look more natural. You can go an extra mile and add a waterfall to leave your guests amazed.
Several Levels
Contrary to a sunken pit, the logic behind this option is having several levels. For instance, you can add some steps that slope towards the pit. You can have other steps surrounding it and place cushions on them.
However, this idea requires having a lot of space for setting up the levels. The steps can be made from wood planks. However, ensure they are safe from catching fire.
Using an Old Vessel
In case you have or you can get a vessel that is no longer being used, it will be a perfect item to use for making an original pit. All you will have to do is ensuring it is stable enough in the area you will set it.
A vessel with a rounded bottom might be tricky to get it stable, but you can set up a strong stone base to make it stable.
You can also put some metal circles around it to make it stable. However, don't forget that metal conducts heat. Hence, be careful not to touch the fire pit vessel as you might get burnt.
Conclusion
It is crucial to consider several factors before choosing an ideal fire pit design for the backyard. Remember to consider the material and the size of the pit.
If the pit is too wide, then it will be somehow distasteful and dangerous to have in your background. You should also choose appropriate fill materials. Also, ensure that the plan adheres to local building regulations.
These suggestions will surely inspire you when making a fire pit in your backyard. Whichever idea you prefer, be it an industrial design, an earthy style, re-purposing your old vessel, or even using natural elements, ensure you choose the style and design that suits your needs and backyard.
Related Article: 10 Ideas for Landscaping With Gravel