If you are a property owner, you must realize the fact hiring an experienced Sydney CBD landscape construction company to design the front yard of a property has a lot of impact on the appeal and overall value of the property.
In case you wish to sell the property at a good market price, you must ensure that it has a green healthy and well-maintained landscape as it will play a key role in attracting the potential buyers.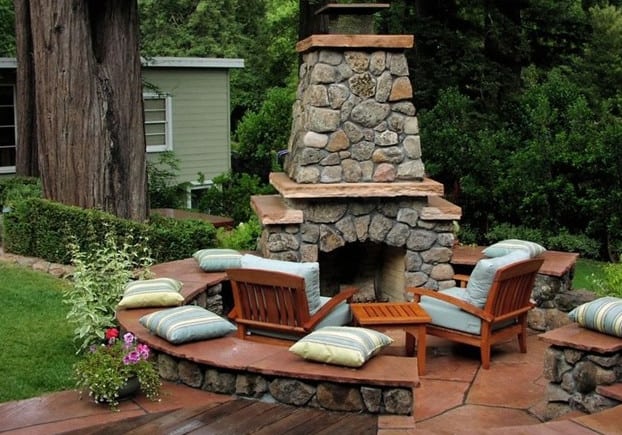 Before you put up a property on the listing, you should remember that when a buyer visits the property, the buyer would see the front yard as the first thing so it should highlight the character and style of a property and it must also make a bold statement.
So, a wise move would be to add some unique design features to the property that will make a great first impression on the mind of the buyer and tempt the buyer to get eager to have a look at the entire property. Some of the ideas that are worth trying are:
You must consider adding charming walkways as they can be a vital part of the front yard landscape design. It will also offer an aesthetic way for you as well as your guests to get to the front door.
When you wish for designing a front yard walkway in Sydney, you should remember a few vital factors that will contribute to ensuring how great a walkway is. These factors are listed right here.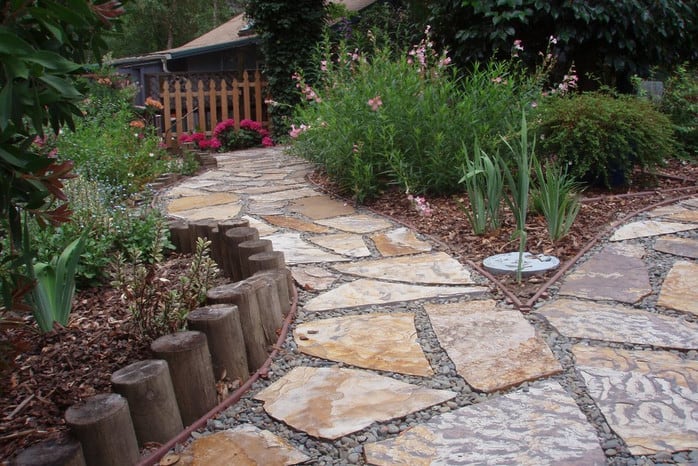 Width:
No matter whether your walkway connects to the driveway or the street, the width of the walkway is vital for safety as well as visual effect.
You must realize that a walkway needs to be wide enough so that two people can easily walk side by side. It should be at least 4 feet wide but if you have space, you can even go for 5 feet.
Shape:
The shape of the walkway will be affected by the size of your yard and style of your home. If your home is colonial and it has a more formal style or a small front yard then your bets option is to go for a simple and straight walkway.
In contrast, if your home is a ranch or cottage with a more casual style or a large front yard, you should consider a curved walkway as it will add more visual interest.
You should always remember that there should not be too many curves on the walkway because if that happens, people would prefer to cut through the lawn.
Paving Materials:
When you need to select walkway materials, you should opt for those which complement the style of your property, be it your home or a commercial space. It should also match with the features and architectural materials of the property.
For instance, if the property has brick buildings, you should opt for a stone or brick walkway that has a brick border.
You must also remember that the solid pored surfaces or pavers will lead to the creation of a safer footpath as compared to irregular-shaped packed gravel or stepping stones.
If you have a front porch, you should consider updating its style. In case you don't have a porch, you should remember that building a new one can be worth the time, money and effort required for it.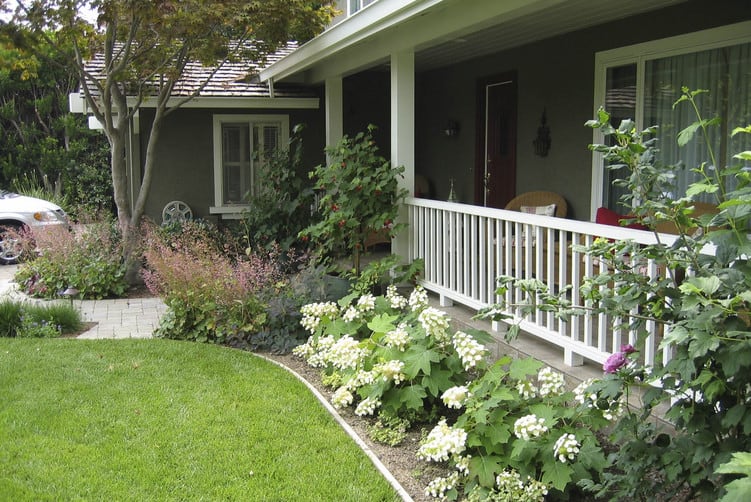 Both these options would help you to increase the value of your property. It is a fact that humans have appreciated the role of front porches since ancient Roman times. People still like them because:
A front porch will emphasize the home entrance
It will frame the front door
It will allow a protected transition between indoors and outdoors
Family and friends can use it as a gathering place
If you don't want the porch to look out of place, you need to ensure that its materials and style complement the architecture of your property. Doing so is not an easy task.
You should hire a landscape professional to help you decide which porch will suit best so that it looks blended in rather than looking out of place.
If you want to do something extra, you should roll out the welcome mat with a pretty front yard landscape design in order to create a stunning entrance to the property you own. When the garden beds that are full of flowering shrubs, colorful trees, and annuals & perennials are created, the potential buyers and guests will feel welcome as soon as they step in through the main gate.
Create Scale
When you are planning the garden beds, you need to ensure that they are large enough to accommodate the desired mix of plants. If you wish to create proper scale, you must ensure that the planting beds span at least half of the width of your house.
If not, they should extend from the house to the front sidewalk. You should anchor large beds with trees and shrubs as it will provide depth and height.
Ensure a Sense of Order
If you want to ensure that the garden beds have a sense of order, you should limit the species of the plants you choose.
It is recommended that you select one or two types of trees, five to ten types of annuals & perennials and three to five different shrubs.
It is also a wise idea to plant similar species in groups and repeat them throughout the front yard along driveways, walkways and different kinds of garden beds.
Select Evergreen Options
As garden beds look sparse in winter or late fall, you should select evergreen shrubs and trees that provide greenery and texture throughout the year.
You can also plant trees that attract birds, butterflies or bees as it will ensure that your garden looks lively. Adding color to a garden bed is also a visual treat for visitors so talk to your landscape expert about that.
If you wish to offer an intriguing & intimate transition from street to the serenity of your home then you must add a private courtyard.
Apart from impressing the visitors, it will give you the opportunity to have an area where you can dine, relax or entertain without your neighbor watching or the neighborhood noises.
If designed correctly, it will also add curb appeal and value to your home in Sydney. Some of the features of a good private courtyard are:
Privacy is the most vital characteristic of this option as it can be enclosed with wood fencing, stone walls or plants, and shrubs. The walls of a private courtyard can be transparent or solid. It depends upon the level of privacy you might need.
The size of the wall is also your personal choice, it can be short or tall. If you don't like the feeling of a closed-in fortress, you can go in for low walls or slatted fencing as these options create privacy while letting in some light along with offering you a view into the front yard.
If you love the voice of flowing water and would like to have it in your private courtyard then you should add a classic tiered fountain to it as it would offer a unique focal point and suppress the street noises.
In cases where the design of the landscape is casual, adding a large urn-style fountain is a smart option as it will blend into the landscape more easily.
To soften the exterior and interior courtyard walls, you need plants. If you wish to soften hardscaping on walls or create interesting borders, you can add climbing plants, shrubs, vines and even ornamental grasses.
Making use of large decorative pots filled with plants or large decorative pots filled with plants is also suggested as it will not only add softness but will also add greenery to fencing or courtyard walls.
The design of your front yard landscape cannot be complete until you add landscape lighting. It's a simple and affordable way of conveying an inviting atmosphere while enhancing the security of the property, especially after the sun goes down.
It can create gorgeous views, amazing focal points, and safe footpaths. If you wish for something special, you can go for ambient lighting as it creates a soft light which covers an entire landscape area while the spotlighting will put attention and focus on particular features of your front end landscape.
A few popular lighting options you can opt for are:
Downlighting
In this option, the lights are placed at a high place and they look down. Sometimes, they give the feeling of real moonlight. In a landscape, you can install them in trees so that the light will filter through leaves and branches to create a soft glow near the ground.
Up-lighting
If you wish to create a strong contrast between dark and light, you can aim lights upward into the trees or onto an architectural feature on the property. This method also creates intriguing effects and dramatic shadows in a front yard landscape design.
Cross-Lighting
This option is a good choice when you wish to light a focal point from both sides and eliminate the shadows. You can mostly use this option to highlight waterfalls, fountains, retaining walls, fences, and large boulders. To get a more stunning effect, you should light up the entire tree canopy.
Pathway Lighting
These lights are bets for using alongside the borders, garden beds, walkways, and driveways. They are vital for ensuring that the footpath is safe and accident-free. If you are after a more natural look, you need to combine the pathway lighting with ambient lighting.
Kindly note that landscape lighting is available in a variety of solar, LED or halogen fixtures. You can easily find finishes and styles that complement the features of your property within your budget. It's vital to talk to your landscape expert in Sydney before taking any decisions in this regard.
All in all, it can be said that making the landscape attractive by adding in features will not only make your property more beautiful, it will also increase its market value. It will also influence the opinion of potential buyers even before they go inside the building. Isn't that great?
For all your landscaping needs in Sydney, contact:
NBG Landscapes
610/320 Harris St, Pyrmont NSW 2009, Australia
+61 422 246 213