Living It Up at Bondi Beach, Sydney's Finest
It's fair to say the quality of the beaches in Australia is indisputable. The country is home to some of the most incredible coastlines in the world.
Bondi Beach, in Sydney, is the most iconic and it attracts thousands of visitors every year. For many, it is a 'bucket list' destination, something to tick off the list of great travel ambitions.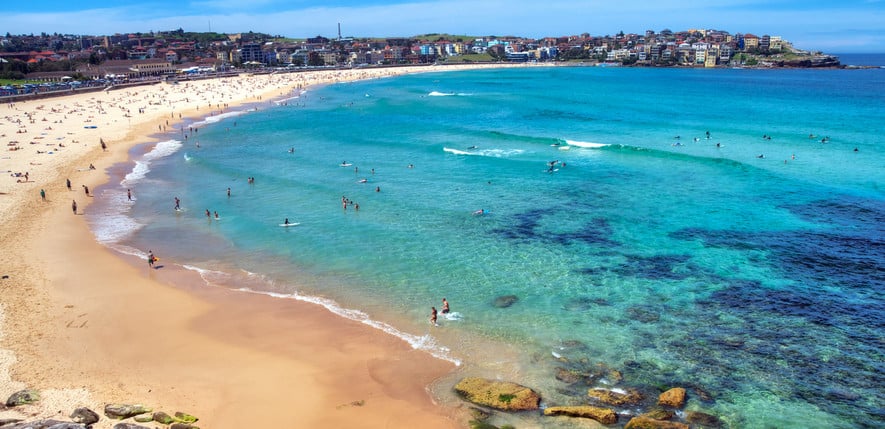 It is situated in the Eastern Suburbs, within a small but thriving coastal community. Bondi Beach, itself, is only around a kilometer in length, but its proximity to the center of Sydney makes it one of the most popular in the territory.
It's just seven kilometers outside of the city. So, this hip bathing spot is easy to reach, particularly if the base for your holiday is in Sydney. Although, it's worth checking out the town of Bondi Beach if you have the time.
The area has a lot to offer and promises a very relaxed, welcoming vibe. The people here are laid back, quirky, and quick to chat with new faces.
Bondi Beach is hard to miss. It is right at the center of town, alongside the charming Oceanfront Walkway.
Here, you'll find a number of public parks and green spaces that are perfect for picnicking, sports, and other outdoor activities.
The town plays host to its own local festivals and events throughout the year. If you're visiting in June, you may want to head to the World Environment celebration. Or, if you're landing in August, join the spectators at the City to Surf Fun Run.
For a full list of annual festivals and celebrations, visit the Bondi Beach tourist website.
If you arrive at a quieter time, but still want to get involved in some local pursuits, find the Bondi Pavilion Community Centre. It hosts small-scale events all year and visitors are always welcome to join the fun.
For the nature lovers, a trip down the Oceanside pathway is highly recommended. If you walk far enough, you'll reach the town of Coogee. However, you don't need to travel a long way to enjoy the incredible scenery.
It's a very gentle path, so it's suitable for walkers and explorers or all ages. The big draw is really the landscape and the views. Along the way, you'll find Gordon's Bay where you have an opportunity to stop off and try snorkeling.
Waverley Cemetery is another popular attraction, though it might sound strange to some. Most people visit for the utterly incredible ocean views, but you can also spend time searching for the graves of dearly departed Australian legends.
Once you get to know Bondi Beach and its wonderful community, you'll find it hard to leave. Fortunately, there is plenty of affordable accommodation in town for those who want to extend their stay by a night or three.
Try the Bondi Sands hotel or the Bondi Beach House YHA for super cheap rates. For something a little more lavish, NBG Landscapes suggests that you check out the Bondi Beach Garden Cottage. There are lots of different options and something to suit all budgets. You can even ask the locals for a word of mouth recommendation.
You May Also Like: