Unless your landscape has all the necessary hardscape elements, then you'd want to include some retaining walls, planting beds, paths, and maybe a patio. Doing so will make your landscape look like an outdoor haven.
There are many materials suitable for constructing hardscape features in your garden. Among these materials, stone would be the most ideal material to use in your garden hardscape projects, according to NBG Landscapes – Sydney (learn more here).
It's one of the most affordable construction materials available. Stone is also easy to use in a wide range of hardscape projects.
It'll also add permanent beauty and value to your landscape and home. You can actually make a skeleton out of stone and easily fill it with plant materials.
Stone is quite unyielding, heavy, and hard. While some types of stone are a little pricey, you can get affordable options from local stone yards. Regardless, stone is a worthy investment, not forgetting that it's permanent.
You can count it as a long term investment that is better than installing decks on the ground level or wooden retaining walls that will eventually soak in water and rot.
If you're planning to install stone structures, it'll help to hire professional contractors to do the work for you if your budget allows.
However, if you can't afford hiring one, gather some good tutorials from the internet on how to do various stone projects.
For instance, you can learn how to build small retaining walls with stone before doing a bigger project such as building a stone path. You can get labor assistance from friends if needed.
If you're planning to do a hardscape project with stone, then you should know certain things before buying stones from a stone yard. The most important aspect to consider is the dimensions of the required stone structures.
Make rough estimates of the dimensions, including the height and length of the planting beds or retaining walls, and the width and length of paths or patios.
A reliable stone dealer should show you the best stone for each project, the tons needed, tips for installation, and other details.
Types of Landscaping Stones
Granite
Granite is the hardest landscaping stone. It also features amazing colors, especially when wet. It comes in colors such as charcoal gray, black/white, and carnelian (reddish gray). Their prices are typically similar despite being available in different colors.
Granite is sourced as a byproduct material from commercial construction. Initially, granite would be treated as waste material. Thus, it would get discarded. Today, it's a valuable landscaping material.
It's cut into smaller pieces in standard sizes. The cut pieces undergo thermal finishing to roughen their surface. However, granite is more expensive and more challenging to use in construction than limestone.
Lannon Stone
Lannon stone, also known as Wisconsin limestone, is white-gray and denser than another form of limestone known as Iowa limestone. It's ideal for making wall blocks.
The wall blocks are typically tumbled in toughened steel drums to form a natural-looking, rough stone. Wisconsin limestone is easy to use in construction.
Iowa limestone
Another great stone option for making landscape structures is Iowa limestone. It's less dense than Wisconsin limestone. Its consistent density and color make it a premium quality limestone. Its cut into different shapes and sizes as needed.
Sandstone
Sandstone is available in several color choices. It's softer and less dense than limestone. Thus, it's easy to use sandstone in construction. Its pricing is comparable to that of limestone.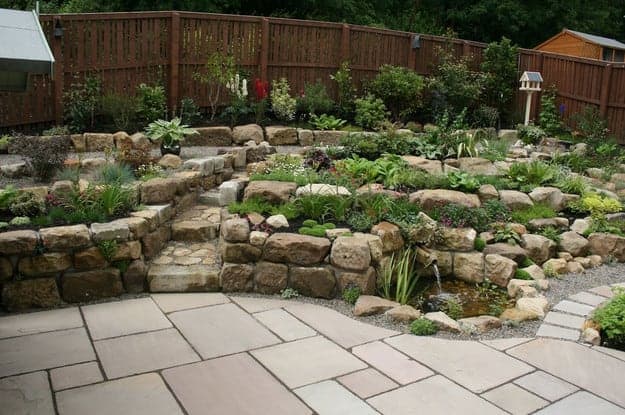 Stones mined from quarries come in different shapes and sizes. They're available in any shape, including similar shapes for uniformity when landscaping.
However, stone cutting isn't exact. Thus, the sizes of cut stones come as approximations. Their lengths vary.
Quarried stone comes as:
Cube: These are 20 by 20 inches blocks. They're used for construction huge retaining walls. They're also used for constructing informal benches. Plumbing can be installed to make fountains.
Edge: These are 4 by 4 inches blocks. They're ideal for lining driveways and planting beds among other features.
Step: These are 6 by 14 and 8 by 14 inches blocks that come in a length of about 36 to 48 inches. Ideal for constructing steps.
Wall: These are 8 by 4, 8 by 8, or 8 by 6 inches blocks that are used for constructing retaining walls.
Site amenity: These are stones shaped into arbors and benches among other features.
Paving stone (flagstone): Paving stones come in rectangles or irregular shapes and are ideal for making pathways and patio surfaces.
Also read: 15 Creative Ideas on How to Landscape With Bricks