Whether you recently moved into a new home and desire to put up an attractive porch, or maybe your aim is refreshing the current appearance of the yard, it is crucial to involve a lot of creativity.
Our Australian landscaping experts have put together this guide on some practical landscaping ideas to give your front porch a new beautiful look.
Planting Lavender on Pathways
This plant is a great choice for pathways since it is almost indestructible. Lavender resists many weather conditions it is has a rather exquisite charm. More so, it would be a great idea in case you desire to brighten a dull path.
You can easily find some tips on how to plant lavender. You can also look for ideas on how to set up lavender for special ceremonies such weddings.
Climbing Vines
Using climbing vines is a great idea for homeowners who have limited space in the front porch. For instance, if you plan to use them in your garden's gate, it would be ideal to plant the star jasmine climbing plant.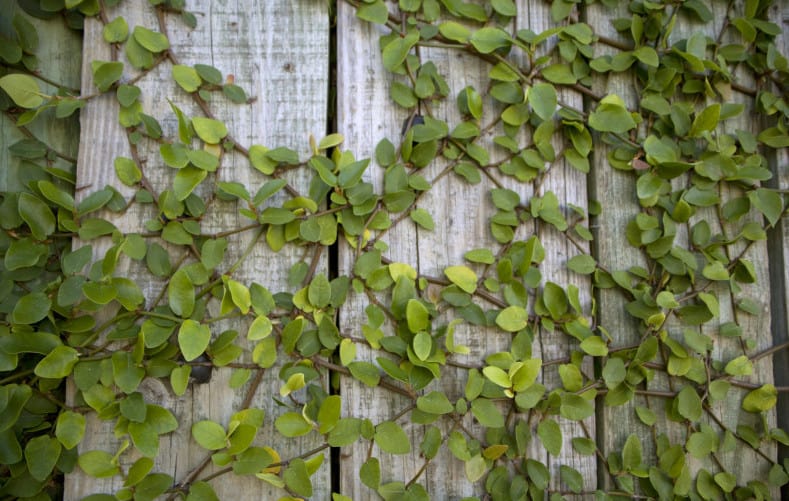 It is quite affordable and its white flowers would give the porch a new look.
A Lush Garden
If you are a homeowner who loves growing several types of plants, then you will surely like to have a flourishing garden right next to the porch.
If you would love such an idea, then you can go for a combination of rosemary, lavender, and irises. All these plants are inexpensive such that you will easily afford to plant all of them.
A Garden Trellis
In case you are not sure of how you would adorn the path that leads to your porch, then you can install a trellis.
There are many DIY tips on how to install a garden trellis. You can also choose from many trellis design ideas. For instance, you can create some kind of walls by placing them along either side of the pathway. You can also join them to create a decorative arch. You can add cascading plants or vines for more beauty.
Planting Edibles
It would be a great idea to plant some edibles in the yard. For instance, you can create small sections of land in the yard and plant different vegetables.
In case you desire to create a homogeneous style, then you can use pots to plant vegetables on your porch.
Planting Morning Glory
In case you like spending most of your evenings around your porch, then it will be a great landscaping idea to consider planting morning glory. For instance, the moonflower type has a unique fragrance that can change the atmosphere of your yard.
They are white in color. They close during sunrise and open during sunset. They grow up to around 15 feet high. You can plant many of them to create a lush garden effect.
Roses
Roses are some of the most ideal flowers for giving the landscape a romantic and classic look. Moreover, they are available in many colors. Hence, you can always experiment with different colors to get the best look.
You can as well come up with a lush effect by using rose bushes. You will also get to enjoy the fragrance of roses on your yard.
Using Pot Hangers
Porches with limited space can still be decorated with flowers by planting them using pot hangers. You can place the pots along the walls or place them outside the porch.
This will all depend on the specific style you plan to get. You can either go for cascading flowers or smaller colorful ones. If you would want to add some privacy, then go for the cascading ones.
Creating Elevated Steps
If you are planning to set up a porch in your home for the first time, then it will be ideal if you add some steps to the porch. Consider adding elevated steps to change the overall look of your beloved home.
You can create permanent steps by making them using concrete. In case you just want a temporary look, then you can get creative with wood planks to make the steps. Remember to paint the steps in a manner that will match with the existing décor of your house.
A Winding Path
Most homes are usually designed with a straight pathway from the main entrance towards the porch. Why not get creative and come up with something new? You can go against the norm and come up with a winding pathway leading to your porch.
You can have it made using stones, pavers, concrete, or any other material. This would depend on the specific style you desire to obtain. Remember to align the path using boxwood hedges, lavender, or whatever you want.
Using Wisteria
If you are confused about the idea that would be ideal with your front yard, you can consider planting wisteria. They are luxurious and spread quickly.
They have lovely flowers and it is quite easy to grow them on a pergola, trellis, or tree. You might even have it growing on your home's walls.
A Classic Lawn
If you want something more stylish yet simple, then consider a classic lawn. As long as you maintain the lawn carefully, then you will not have to do much to keep your porch looking pretty. Just ensure it is well manicured and gets sufficient water to bloom.
After all, the last thing you would want is your lawn looking dry and yellow. Hence, take good care of it.
If you wish to go an extra mile, then plant flowers in small pots and place them on your lawn. You can also plant some bushes around your lawn.
Use Hostas
Hostas, also known as Giboshi or plantain lilies, would be good to consider if you are lost on the planting to use around the front of the porch. They have big flowers that can assist you in setting up a very rich aspect.
You can plant Hostas in rows or just randomly. You can as well combine lilies with any other types of flowers or just plant different varieties to mix colors.
Variations in Leaves
If you reside in a region that experiences cold winters, then you will want to consider plants that can bloom in such extreme weather. You can try out different varieties of foliage. For instance, try creating a mixed green landscape by mixing sword-shaped and rounded foliage.
You can combine any types of foliage as you want. You will have the freedom to play around with whichever foliage you want. Also, consider playing between different colors and when the specific type of plants blooms.
Make Use of Coral Honeysuckle
Blossoms of this plant are trumpet-shaped. Hence, they are a great plant for decorating your porch. Coral honeysuckle grows fast and has an amazing scent, not forgetting its exquisite color.
It produces beautiful flowers and it also attracts hummingbirds. You can grow it on the walls or a trellis.
Wrought Iron and Brick
Homeowners who love classic styles can combine brick walls with a railing made of wrought iron. This creates a classy space.
However, if your home does not have brick walls, you can still use some wallpapers to make it resemble a real brick house, although the final look might not be very appealing like in a real brick house.
A White Picket Fencing
This type of fencing has always been a popular type for many homeowners. It is often preferred due to its versatility. You can use this type of fence no matter the type or style of your landscape.
This fence is white in color and this makes it possible to experiment with bright flowers like crimson roses and magenta bushes.
Planting Pie Pumpkins
A great and original idea for your porch would be planting pie pumpkins. They are especially great for decorating during Halloween, but you can always use them any other time.
They give the porch a rustic appearance. You can always brag about having an original style when using these pumpkins.
Wrapping Around Your Porch
In case you lack a lot of space or you wouldn't like using the lawn at the front of your home, then you can consider wrapping some flowers in a line around your porch. Colorful and bushy plants would be an ideal choice.
You might also want to consider taller plants if you would want them to draw some attention. Nevertheless, avoid combining extremely taller plants with short ones.
A Tulip Landscape
Another great tip for decorating your front yard is adding tulips. They are elegant, timeless, and classy. For instance, you can try a monochrome tulip design and all-yellow or all-red tulips.
You might also want to experiment with tulip shades while mixing them however you desire. Some homeowners throw tulip seeds randomly so that they can grow randomly.
Conclusion
Although it might appear like the porch is not very generous for applying some landscaping ideas, you can still decorate it no matter how small it might be. You can always combine different varieties of plants or flowers in a small space and get an attractive design.
It is also great using original ideas in the design such as planting pie pumpkins or trying different tulip colors. In conclusion, the key to a successful landscaping design is creating something that you love and represents you.