Vivid Festival in Sydney
Do you want to experience the most contemporary and cutting-edge lights, music, and idea show in the world? Look no further than the Vivid Festival in Sydney, Australia; a truly spectacular event that one should experience at least once in their lifetime. Vivid Sydney is an event worth traveling to; there is no other celebration similar in setup or caliber.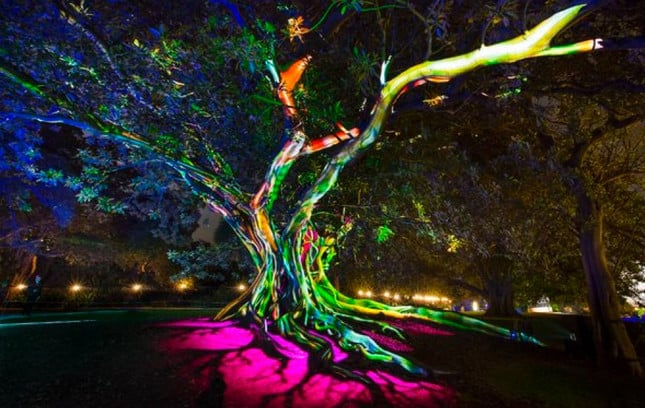 Vivid Sydney is a festival that takes place over the course of twenty-three days and encompasses a variety of various light shows and sculptures, as well as music and a coming-together of ideas. The Vivid Festival is a modern-day renaissance of creativity and innovation that anyone would enjoy!
Vivid is an annual event taking place during May and June each year, and is centered in the heart of downtown Sydney, primarily utilizing the iconic Sydney Opera House to feature vibrant lights as well as music concerts.
Anyone can travel to this festival, being cognizant of the popularity of the event and booking a flight and hotel early enough to ensure their attendance. While the festival is less than a decade old, Vivid has already been recognized as one of the best tourist events in the world.
The festival can be separated into categories consisting of: Vivid Light, Vivid Music, and Vivid Ideas.
Vivid Light is perhaps one of the most awe-inspiring aspects of the festival, transforming the whole of Sydney into a vibrant light show. The views are free to the public, and many will be satisfied simply walking the streets of Sydney and taking in the breathtaking light show.
Vivid Light supports light artists and designers, allowing vendors to demonstrate their creativity through their captivating shows as well as their intricate light fixtures. You do not have to be an artist to appreciate the genius of Vivid Light; anyone that appreciates ingenuity and innovation will enjoy Vivid Light and garner long-lasting memories of this once-in-a-lifetime experience.
Vivid Music is a mixture of music shows: large-scale performances as well as small bands, and includes a wide variety of music from various genres. The music allows Vivid guests to witness contemporary music shows, and tickets may be purchased prior to the event to ensure attendance to the specific shows of interest.
Vivid Music also includes Vivid LIVE, a music show that takes place at the Sydney Opera House; a popular and highly desired event during the Vivid Festival.
Vivid Ideas is a celebration of the community and the creativity of the area, specifically Australia and the Southeastern corner of the world. Vivid Ideas includes several speakers from the region presenting ideas to the audience in a TED-esque fashion, focusing on technology, culture, design, architecture, and several other prominent 21st century subjects.
Vivid Ideas is an intriguing event for tourists who are interested in technological progress and innovation, and is also an excellent event to network and collaborate. Vivid Ideas can be utilized as a place to make technological announcements and merge ideas with others prominent in their field.
The Vivid Festival is one-of-a-kind and incorporates numerous events for the public to enjoy. Vivid is unlike any event one will ever experience, all in the exceptional and highly-desirable Sydney, Australia. Check out other Sydney festivals and events here.
NBG Landscapes Sydney
NBG Landscapes is a full service landscaping company in Sydney. Please reach out to our experts for a free consultation on your next landscaping project.
NBG Landscapes
Address: 610/320 Harris St, Pyrmont NSW 2009, Australia
Phone: +61 422 246 213
Web: https://nbglandscapes.com.au
Also Read
Attractive Accommodations in Sydney
Higher Education Study Options in Sydney, New South Wales