Many of the commercial property owners assume that the only way to ensure that tenants are offered extra security is to minimize the landscape and get rid of any feature that may pose a threat to the occupants of the building.
But they don't realize that if they design the landscape by paying attention to detail, they can offer a beautiful landscape and awesome safety to all the tenants.
Three main factors that must be remembered are that you as a commercial property owner must ensure that there are good lighting, diligent maintenance and appropriate plant materials.
It will ensure that the visibility is increased and anyone can see around even through the plants in order to avoid unexpected encounters or surprises.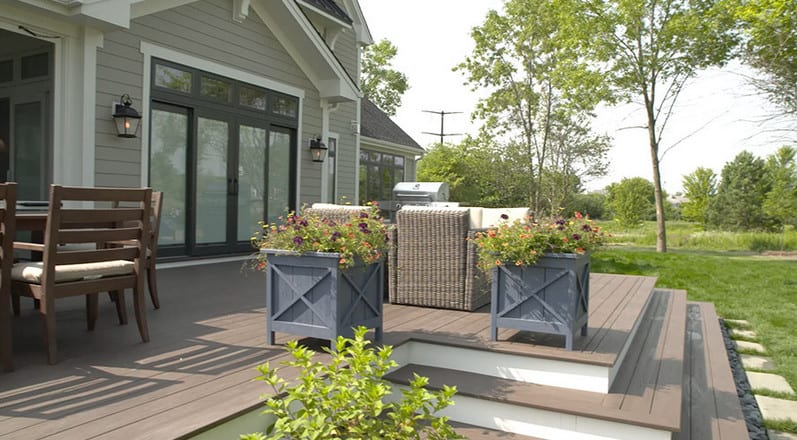 In order to accomplish that, you should remember to curtail plant heights and densities. They should be well pruned and trimmed properly as they mature to avoid undergrowth and dense over.
Proper illumination means that there should be the right amount of light in the right places. Though there is no need to flood the entire space with bright unrelenting light, you can opt for ensuring proper illumination near the surface of driveways, walkways and parking lots so that drivers and pedestrians can see and be seen easily by others without being blinded by the light.
If you plan the lighting in the right manner, you can also save costs and energy while minimizing light pollution.
Are you still eager to know 7 commercial landscaping tips that will definitely help you to ensure safety? Well, here they are:
Well-Defined Routes
The first thing you need to do to ensure that the landscape is safe is to make sure that the tenant circulation routes are designed appropriately so that they can take the safest and shortest possible routes.
You also need to remember that most of the tenants prefer to get from point Y to point Z in a short amount of time and distance so there is no point in increasing that unnecessarily just because you would like to meander them through a winding walkway.
If you add a lot of curves and corners and add length to their walk, they would just cut across. They might even end up wearing a new path.
Learn to Compartmentalize
You should also spend some time in understanding how humans and vehicles interact on your property and then compartmentalize them as much as possible. If you can separate the walkway from a roadway, don't hesitate to do it.
You can do it by installing a median or boulevard strip. It will ensure that pedestrians stay far away from moving vehicles and remain safe from vehicular accidents.
In places where the vehicles and humans have to interest like crossways, you should make them as visible as possible for drivers and pedestrians. Using effective lighting and clear markings are some tools that may prove to be useful for that.
Ensure Best Possible Illumination
You should also realize that proper illumination is vital for preventing crime incidents and accidents. There should always be efficient lighting around all the travel areas as it will help in boosting the pedestrian visibility along with reducing the number of hiding places that are usually used by criminals.
Appropriate lighting will also improve direct and peripheral vision along with minimizing the need for head swiveling that people do to feel safer and more at ease.
Drain and Storm Water Management
As a property owner, it is your responsibility to ensure that a landscape has appropriate drainage and stormwater management systems in place. It will ensure that water clears off the entryways and pedestrian areas quickly and people remain as dry and possible when they enter or leave the building.
There should be adequate drainage in the driveways and other areas where vehicles can be driven as it will ensure that drivers don't lose control of their vehicles during heavy rain. It will also prevent all the pedestrians to be drenched due to passing vehicles.
If it's possible, you should opt for vegetated storm management design and porous paving options because these ways of improving drainage protect water as a resource.
Snow Storage
If you live in an area where snow is occasional, you can opt for creating a space that's dedicated to snow storage during harsh winter months.
It will enable the snow operators to conveniently and easily pile the snow while they ensure that drivers & pedestrians can safely maneuver around parking lots and sidewalks.
Ice Management
If you don't wish the tenants to suffer from ice formation issues then too you can add a drainage solution as it will prevent ice formation and build-up.
When water is removed quickly, it won't let the ice to form. It will also avoid over-salting for safety, minimize cost and environmental damage.
Proper Pruning
To ensure better tenant safety, the garden should be pruned in a proper manner. Removing excess growth not only improves sight lines, it also boosts visibility. But you should also remove that over pruning is avoided as it can create sharp and strong branches that can injure a person who is walking too close.
It can even damage the eyes of unattended kids or pets. So, pruning should be done by using horticultural best practices. All the landscape experts are highly trained professionals are skilled at pruning and they help to ensure that you get constant results from your long-term investment, your landscape.
All in all, it can be seen that property managers who make the landscape much safer would gain a lot in the long run if they follow the aforementioned tips as tenants are often agreeable to paying more money if the property has extra layers of security.