Most of the garden lovers in Sydney are looking for ways to improve the landscaping appeal of their home. If you are among those people, then you must consider adding a beautiful slate walkway to the landscape as slate is a natural material that has been mined from the earth.
Our landscaping contractors in Sydney say that it offers amazing strength and durability while being quite easy to maintain. As slate is good for all climates and weather conditions, you can expect it to enhance the beauty of your home in Sydney for years to come.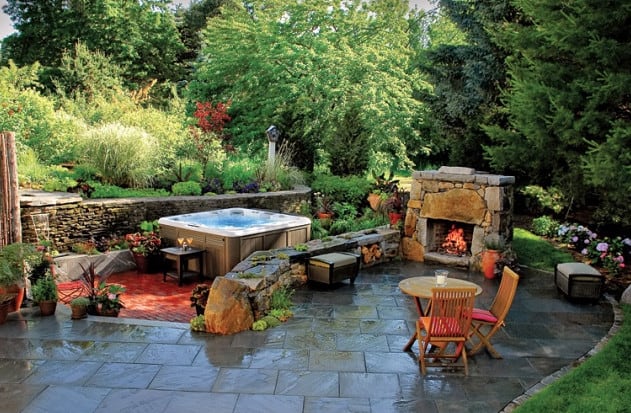 Learn About Slate
If you haven't heard about slate then you should know that it's a fine-grained metamorphic rock that gets its exceptional appearance and character only when layers of mudstone or shale shift far beneath the earth's surface and creates very thin layers of rock in which one rock is on top of another.
Slate is generally composed of micas or clay minerals or silicate minerals that form in diverse layers.  It often has high levels of quartz that provides it with an extraordinary texture.
It also has small amounts of other minerals such as pyrite, calcite, feldspar, and hematite that are found deep beneath the surface of the earth.
As slate is quite durable, it is suitable to be used in various types of landscaping design projects like sidewalks, walkways, driveways, pool decks, patios, terraces, spa decks, garden areas and stair treads. It is a material that holds up quite well outdoors during all kinds of weather conditions and different climates.
As it absorbs a minimum amount of moisture, it stands up very well to sleet, freezing rain, and even snow without cracking a bit.
Although slate naturally forms plentifully in different shades of gray that varies from light to dark, it can also occur in stunning shades of red, green, gold, blue, purple, black and brown. The color of a slate is usually determined by the type and amount of iron and organic materials that are present in a rock.
A slate walkway is a perfect choice for you whether you want to create a casual backyard garden path or a dramatic front yard entrance.
The Organic Beauty of Slate
Slate offers exceptional variations of intense colors and textures because of the way it forms underground. These colors and textures are hard to find in another type of natural stones.
Slate is also very appealing as it provides an organic beauty and natural appeal because even two pieces of slate are even different.
The organic and earthy appearance of slate leads to the creation of a unique style which works fine with any kind of architecture. Slate is known to blend easily into any kind of landscape be it formal, casual, rustic or sophisticated.
Types of Slate
The color variations in rich shades of oranges, blue, grays and tans make this option very unique. African slate is best suited for the landscape of people who are after a strong contrast because it provides bold pops of color.
This one is available in sophisticated shades of gray and black. It is also available in numerous exclusive color variations. In some colors, the pieces of slate can differ significantly in intensity and shades from piece to piece.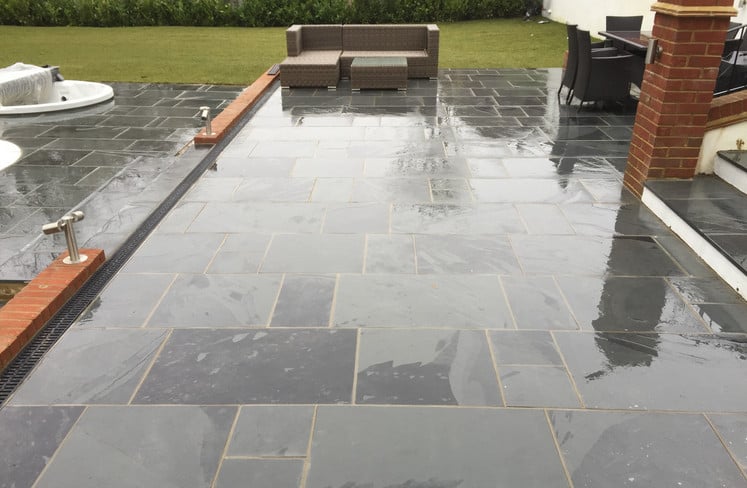 It has a smoother texture and the color variation is slightly less as compared to Brazilian slate. It is best for landscapes where a more uniform design appeal and less contrast are desired.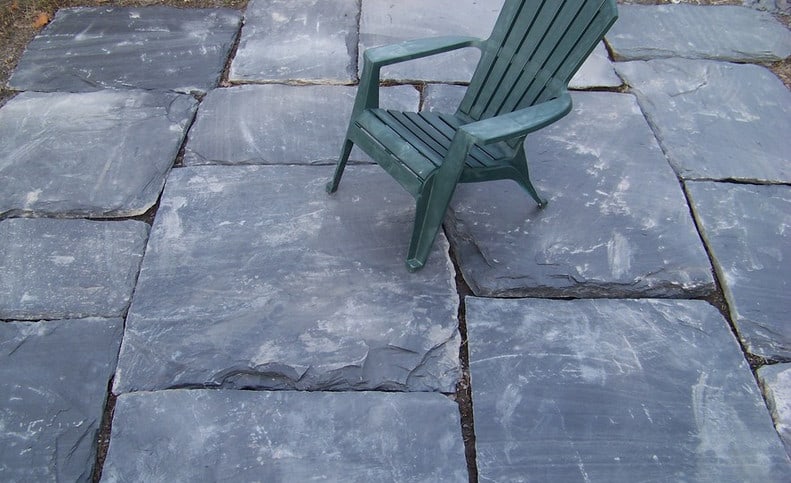 Slates that are mined in India and China are available in exotic color variations. The only thing worth worrying is that they are usually softer and more porous than Vermont, African and Brazilian slates. You should use them in landscape areas which aren't prone to heavy foot traffic or more use.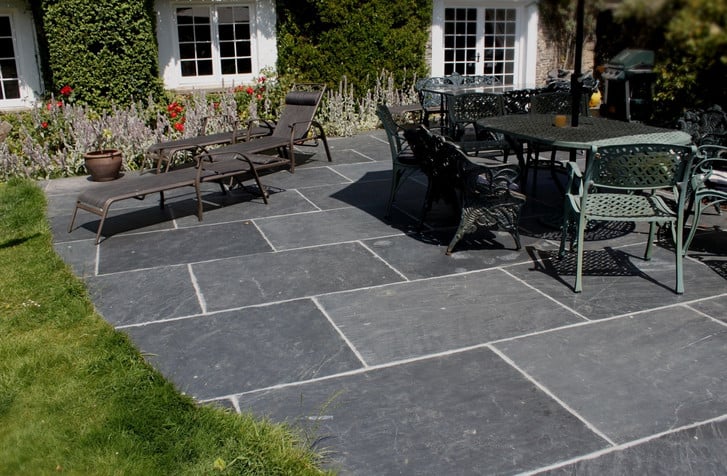 Slates that are mined from quarries in New York, Brazil, Vermont, Portugal, England, and Wales are well-known for being durable and having high-quality stones.
When you buy slates that are produced in these areas, you can expect the slate walkway to last at least a lifetime if you stick to proper care and maintenance procedures.
Slate Finishes Options
After you have chosen the type of slate that you will use, you need to know that while installing slate for an outdoor environment, it's vital that you choose the right finish. Three finishes options available to you are:
This finish means that the slate has been sanded a bit so it will have a slightly dull and natural look. These slates work well with all kinds of landscapes and provide awesome slip resistance for a walkway made of slate.
If a slate tile is clefted, the surface is usually kept the way it was when it was quarried which means that the surface will be uneven, bumpy and rough.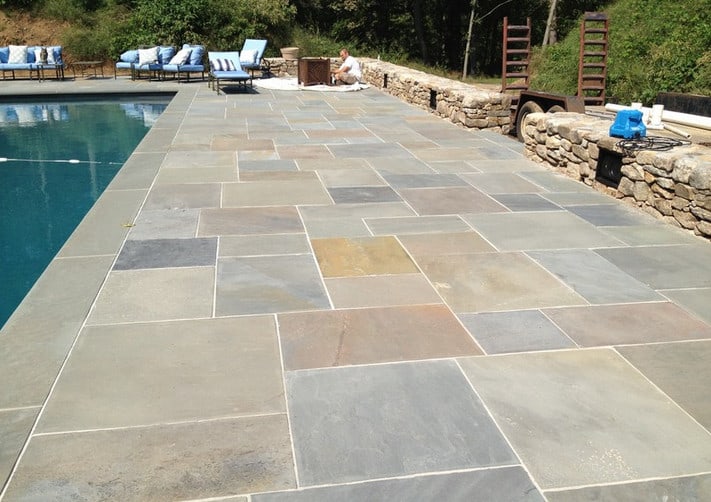 This type of slate provides great traction and it has an amazing slip-resistant surface as well. The only thing is that it can be somewhat uncomfortable to walk on this slate when you are not wearing shoes.
It is quite rare as the slate is not suited for a glossy finish like granite and marble. A polished finish on any kind of stone will make the stone slippery so these stones are mostly used indoors where this isn't a problem.
Amazing Slate Landscaping Ideas
If you want the driveways to be strong, durable and easy to maintain, you can't do better than slates. To get protection from potential oil leaks and stains, you should seal the slate when you install the slate and once a year from then on. To add sophisticated style to the front of your home, you should trust slate as it is sure to turn heads.
Though slate is quite durable and dense, it is easier to cut and softer as compared to marble and granite. If you want to add in a walkway that has winding curves and not straight sections, you can cut and install slate walkway easily as compared to a walkway that is built from harder stones.
If you have a more formal landscape setting, you can lay slate walkway in a straight path on the side of the house as it will complement the formality of traditional landscape and home.
As slate is water and slip resistant, it can be used for the outdoor patio and terrace areas, especially around spas, pools, ponds, and waterfalls.
You can also seek to combine slate with another stone to create a dramatic look in your porches and verandas. Slate usually has an organic and earthy texture and appearance and you can make it look sophisticated by combining it with stones like marble, granite or limestone.
Many homeowners dream of having stunning outdoor pavilions and if you are the same then you should know that doing so would allow you to expand indoor living spaces for relaxation, outdoor activities, and entertainment.
Slate is nonporous so it won't absorb water which means you can use it to get a beautiful and slip-resistant material for the pool deck.
In the end, it can be said that no matter the style, size or design of your home, you can always use slate to enhance the beauty of the landscape. It is also a cost-effective option that lasts for years with minimal maintenance for many outdoor projects.
For landscaping and gardening projects in Sydney, contact NBG Landscapes on 0422 246 213 or send us an email at james@nbglandscapes.com.au.